This chainsaw teeth sharpener makes it easy to sharpen your chainsaw in no time at all.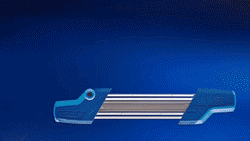 Using a chainsaw makes cutting through trees or any other wood so much easier, but over time your chain will begin to dull. If using your chainsaw becomes hard and you have to apply pressure for it to cut through anything, it might need to be sharpened.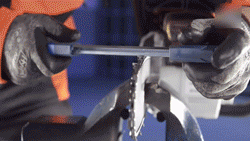 It is important to keep your chain sharp since the dull chain increases the chainsaw bar launching upward after the chain gets caught in the wood. This occurrence is commonly known as kickback and it is one of the most common causes of chainsaw injury. A sharp chain cuts well with very little force on the bar, while a dull chain tends to ride in the cut without deepening it.  
In conclusion, a dull chain is dangerous — it greatly increases the chances of kickback. The chain is more likely to catch in the material and propel the bar up toward the operator. Increased fuel consumption and excessive damage are two more reasons to avoid cutting with a dull chain.
By getting the right tools to use like this 2-in-1 Handheld Chainsaw Sharpener File, you can easily sharpen your chainsaw and get in back in proper working condition.
FEATURES AND BENEFITS:
Our 2-in-1 Handheld Chainsaw Sharpener File can quickly and easily sharpen any chain.
Optimized shape for more precise guiding, helps to improve the efficiency of chainsaw work.
Practical tool for quickly sharpening the tooth and depth gauge in a single step.
Both sides of the sharpening stone with handle design, easy to operate, which allows the user to operate directly on the chainsaw, without accidentally hurting the finger.
Sharpen any chain quickly and easily, can make your saw chain more sharp, easy to use.
Just rub it back and forth manually to make your chain smooth and shiny again.
Suitable for any size of the chainsaw.  
SPECIFICATIONS:
Item size: 380 * 60 * 25mm / 14.96 * 2.36 * 0.98in
Item weight: 350g / 12.35ounce
Package size: 380 * 60 * 25mm / 14.96 * 2.36 * 0.98in
PACKAGE INCLUDES:
1 x 2-in-1 Handheld Chainsaw Sharpener File
1 x User Manual
This Is A Great Gift For yourself or your friends!
Click "ADD TO CART" To Get Yours Now!