The more fountains you have, the more beautiful the effect !!!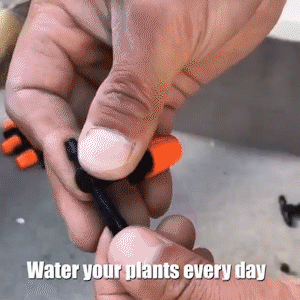 No more wasting your time and labor in watering.
Our Automatic Irrigation System can help you save up to 70% water.
At the same time, it helps you keep healthy and lush plants with low water usage.
When sprayer irrigation watering is directed to the root of the plant, it reduces most of the evaporation.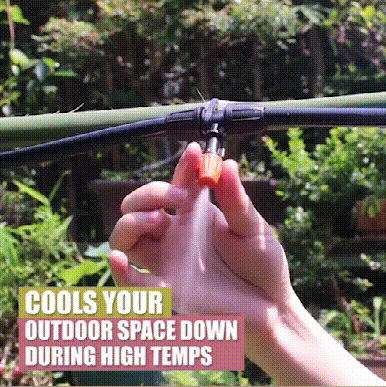 An automatic irrigation kit is great for atomization, lawn irrigation, patios, gardens,
vegetable irrigation, roof cooling, irrigation, agriculture, vegetable, greenhouse, flower bed,
swimming pool misting fog cooling irrigation, etc.
FEATURES
Cooling Irrigation System: Water your plants every day automatically when you are on a business trip or during your travel, it will decrease your patio temperature up to 20°f, cooling and humidifier function bring you a cool summer and a more healthy life.
Watering Customization: Every nozzle could be adjusted individually and the nozzle has two spraying modes, columnar and foggy, allowing setting each plant to receive its customized watering according to its precise needs, no longer worried about leaving home.
Saves Time and Water: The precise sprayer watering system can automatically water your plants according to your desire. It can save up to 70% in water savings and watering all your plants at one time. No more wasting your time and water.
Wide Applications: Ideal for flowers, plants, bonsai and potted fruit, patio drip irrigation. A perfect garden watering kit for family homes, hotels, clubs, offices patios, greenhouses, gardens, lawns, and other plants of intelligent care.
Easy Installation: Simple installation without digging or plumbing skills, simply insert the fittings and sprayers, you can begin watering your plants instantly.
How To Use
1. Cut the water pipe according to the length you need.
2. Attach tee with the atomizing nozzle.
3. Attach an end closure when you finish all atomizing nozzles' installation.
4. Attach the pipe to the tubing quick connector with the tee.
5. Attach the tubing quick connector with the universal connector.
6. Attach the system to Faucet and place the installed spray near your plants.
Specifications:
MATERIAL: PP+POM
FEATURES: Adjustable / Cooling
TYPE: Water Hose / Watering Kits
OCCASION: Flower / Garden / Green Plant / Shed / Yard
WORKING PRESSURE: 1.0-2.5kg
FLOW RATE: 0-8L/h
INNER DIAMETER: 4mm
HOSE LENGTH: 16.4FT / 32.8FT / 49.2FT / 65.6FT
SPRAY DIAMETER Approx: 23.6 inch (60cm)
Package Includes:
5/10/15/20 × Atomizing Nozzle (Optional)
1 × 4/7 Hose (16.4FT/32.8FT/49.2FT/65.6FT/98.4FT/131.2FT) (Optional)
5/10/15/20 × Hose Connector (Optional)
1 × Quick Connector
1 × Faucet Connector
1 × 4/7 Hose Stopper
This Is A Great Gift For yourself or your friend!
Click "ADD TO CART" To Get Yours Now!