Improve Your Overall Spine Health and Posture!
Everyone knows that poor posture is bad for long-term health. If you're in front of a screen all day or do lots of physical activities, chances are you suffer from slouching and poor posture. 
The Adjustable Back Shoulder Posture Corrector is guaranteed to improve your posture within 30 days or your money back, no questions asked!  
EASY TO USE ANYWHERE

Wear it comfortably at work, the gym, and even under your clothes to enjoy good posture all day, every day!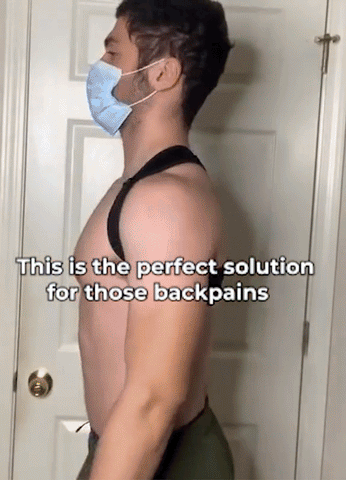 Adjustable Back Shoulder Posture Corrector is the perfect solution! Wear it for 10 to 20 minutes a day, your back and shoulders will slowly adjust and you will be able to build correct muscle memory for posture, not just when you're sitting at your computer or in your car, but when you're at work, playing sports, morning walks, exercises, etc.
Why This Is A Must-Have!
✔ Strong Support & More Effective - This Adjustable Back Shoulder Posture Corrector has 2 support bars on the back which ensure stability and provide robust support to improve your posture.
✔ Easily Adjustable - The magnetic back posture corrector comes with the adjustment strap, allowing the user to choose any chest size between 28 and 48 inches. This makes our product unique and available to everyone.
✔ Great For Your Back - By pulling back your shoulders and upper back, "forces" the user to walk and sit in the right position, improving the body's posture and allowing for better blood flow. 
✔ Easy To Use Anywhere - The Adjustable Back Shoulder Posture Corrector can be used at any time, and it is not seen while worn under a shirt or a t-shirt. It can be worn anywhere and without any discomfort. It is extremely practical, light, and comfortable. 
It's easy to see that poor posture prevents a confident look, but did you ever wonder how good posture feels? Especially good posture that comes naturally from wearing the Adjustable Back Shoulder Posture Corrector for just 1 hour per day for 2 weeks.
"Looking back, I can't believe I was walking around with my head tilted forward and shoulders slouched like a caveman. It wasn't until wearing the Adjustable Back Shoulder Posture Corrector that I realized how ridiculous I looked and felt. I didn't realize how tight everything was and how big of an impact it had on my confidence and mood. Now that I can stand with my head tall and shoulders pulled back, I feel better from the inside out. Even my friends have noticed" -Katie T. Chicago, IL
THE #1 RECOMMENDED POSTURE CORRECTOR!
What really stands out about this Adjustable Back Shoulder Posture Corrector is that it's comfortable to wear when your posture is on point but becomes uncomfortable if you lose proper form. This makes it easy to gradually train your muscles to hold a proper alignment.
Specification:
Color - White, Blue, Grey, Green, Purple
Sizes - S, M, L, XL, 2XL, 3XL
Packaged Include:
1 x Adjustable Back Shoulder Posture Corrector
1 x Package Bag
30 DAYS RETURN GUARANTEE:
Were you perhaps not satisfied with the product? You ordered the wrong item? or did the item comes damaged? Not To Worry, you will still be eligible to get a refund/exchange as long as you submit the return, within the 14-day window, and you meet the Returns Policy! Feel free to contact us, should you want to submit your return.