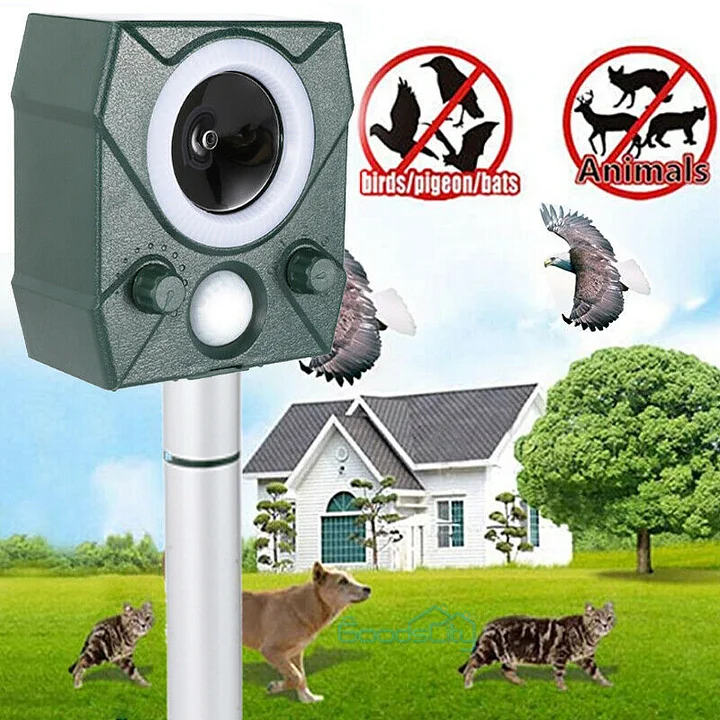 Features:
•Ungraded Ultrasonic Animal Repeller: Adopts advanced ultrasonic and PIR motion activated technology, and equipped with strong LED flashing light. It can effectively repel animals and pests by emitting powerful ultrasonic wave and strong LED flashing light, and the irregular and variable frequency makes it more effective to drive away the most aggressive animals which may adapt and become immune to a certain frequency band.
•Large Coverage Protection: Dual powerful ultrasonic speaker design with extended degree for emitting sonic wave, effective for an area up to 5,000sq.ft. Integrated with most advanced passive infrared (PIR) sensor chip which is very sensitive and reliable, can detect animal's motion within a distance up to 30 ft.
•Solar Powered and IPX4 Waterproof: Equipped with a high photoelectric conversion solar panel on its top and can be charged (High-performance Lithium battery has been embedded inside with PCB board, not in the battery box) by solar energy in the sun; or via an included USB charge cable. Waterproof design makes it keep working in rainy, snowy or freezing weather conditions.
•Humanistic & Versatile: No traps, no harm to human or animals and chemical free. Adjustable frequency and sensitivity dials allow you to get rid of cats, dogs, birds, mice, squirrels, rats, skunks, raccoons, birds, deer, mosquitoes and more. Or set it to repel all of them at the same time.
•Easy To Install: You can simply insert the animal repeller into the ground with a removable pole (included) or hang up where there is plenty of sun light and switch it on, which is perfect for yards, patios, garages, attics, porches, boats, gardens, farms, ponds, etc.. Note: Please leave the pole 12 cm or more above the ground. Don't hammer directly on the device but dig a hole to mount it.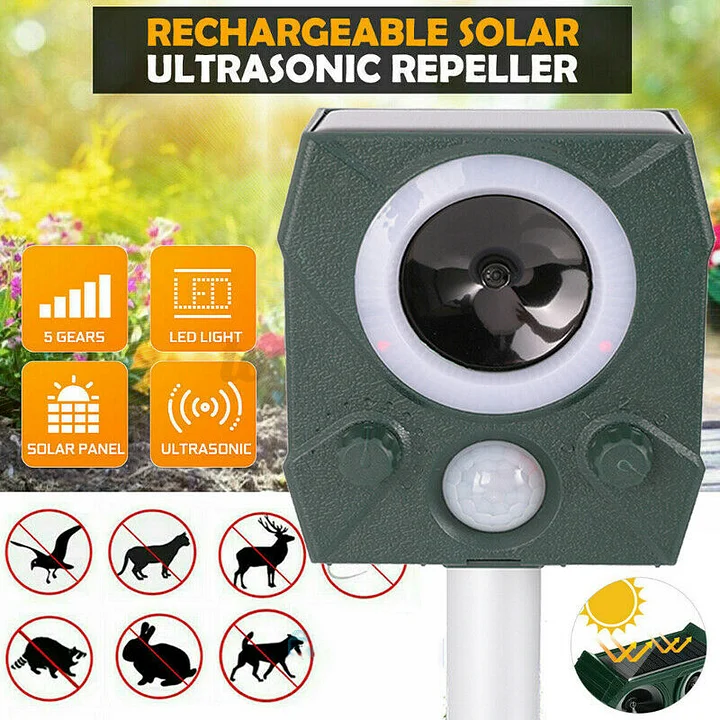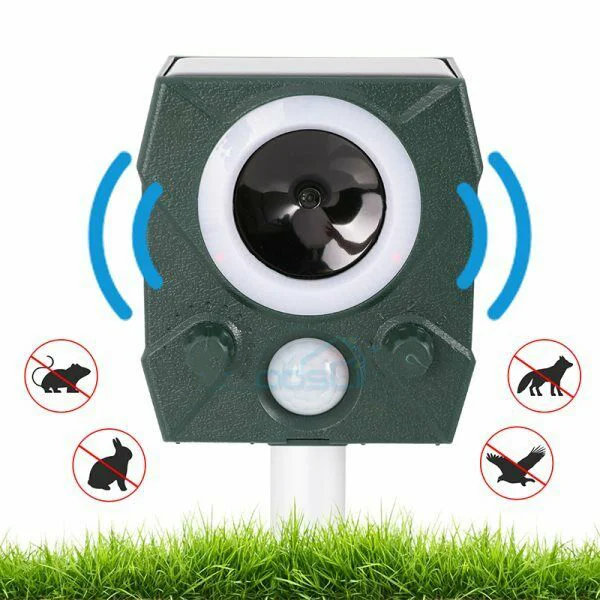 Specifications:
Product Type: Ultrasonic Animal Repeller
Materials: ABS
Infrared (PIR) Sensor Range: 110 degree
Detection Distance: Up to 30 ft. depending on animal size.
Coverage Area: 5,000sq.ft.
Ultrasonic Frequency Level:
Level 0: Off
Level 1: 13.5 kHz-19.5 kHz, repel animals such as mice, rats, dogs, foxes, martensitic.
Level 2: 19.5 kHz 24.5 kHz, repel animals such as rabbits, cats, raccoons, badgers, skunks, etc.
Level 3: 24.5 kHz 45.5 kHz, repel animals such as bats, rodents etc.
Level 4: Strong flashing lights to repel animals such as, raccoon, boar, marten, etc..
Level 5: Repel all animals with variable frequency and strong LED flashing.
Waterproof: IPX4
Power Supply: Rechargeable 3 x AA Ni-MH 1.2v 800mah battery, recharged by solar panel (solar energy) or USB power adapter (5V/500mAh).
Color: Green and green
Item Size: 11 x 9 x 5cm
Item Weight: 300g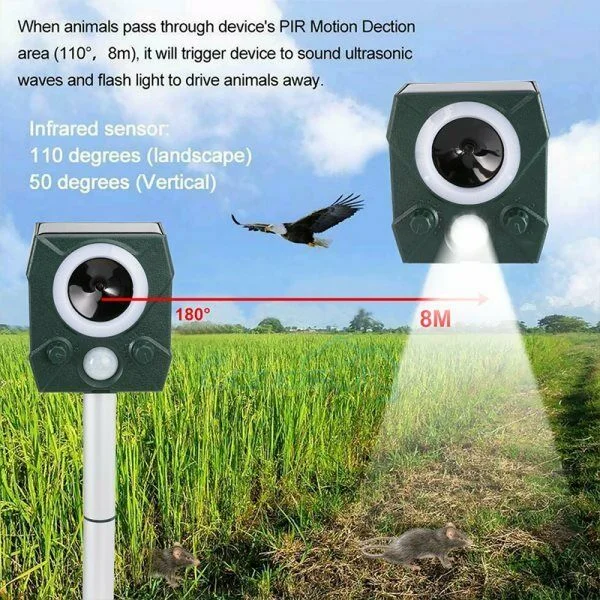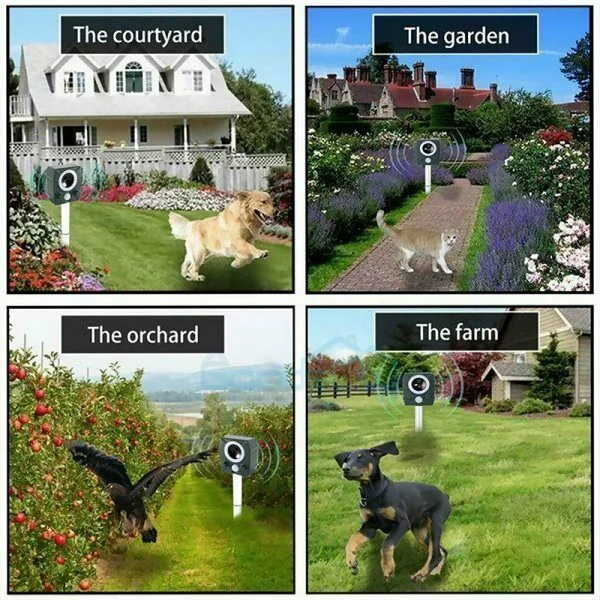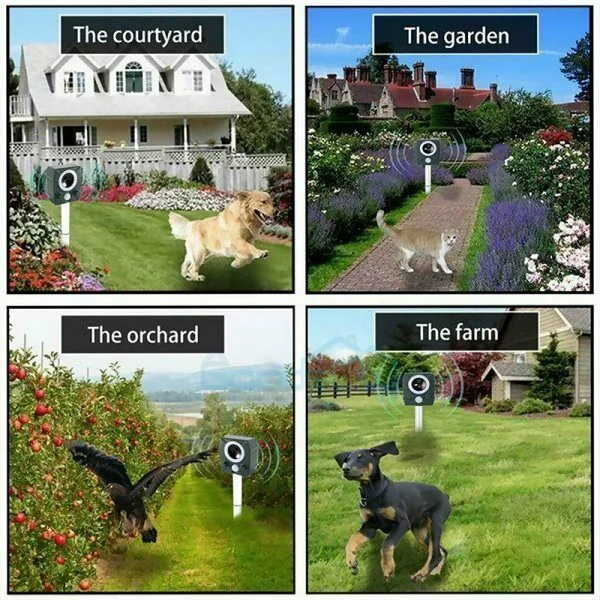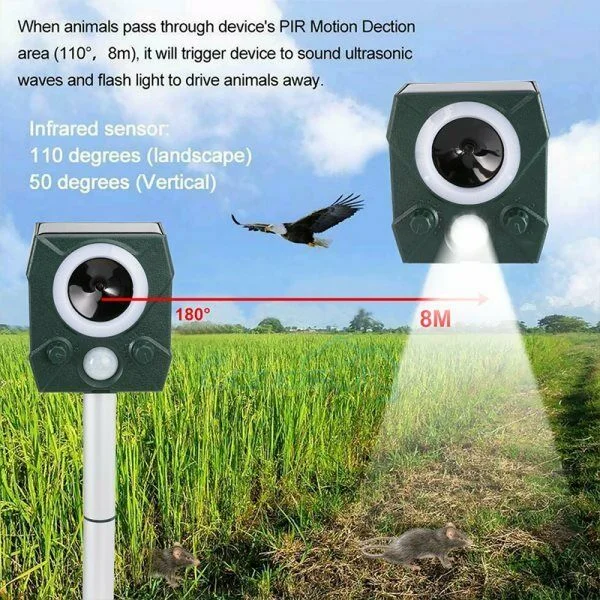 Package included:
1 * Ultrasonic Pest Repeller
1 * USB Charge Cable
1 * Installing Pole
1 * User manual