The world's first Cordless Micro CPAP device.
This ANTI SNORING ELECTRONIC SLEEP APNEA DEVICE CPAP is made because too many people have sleep apnea, and too many don't wear their CPAP masks, and who can blame those uncomfortable masks and hoses? Snoring is not only irritating for you and your partner, but it can also be fatal. The condition has been linked to heart and metabolic disease! Not only that the snorer can experience lethargy, headache, daytime sleepiness, and even moodiness.
A healthy life starts from your sleep
When we sleep. our muscles relax more, causing them to contract. and sometimes the Anti Snoring Devices can even be temporarily closed. Air flowing through the minimum opening can cause the tissue around the opening to vibrate. Which, in turn, can cause the noises you hear when you snore.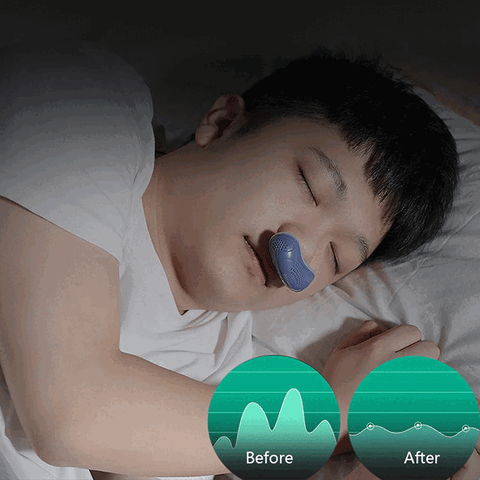 No more sleepless nights.
The specially designed snore reduction vents offer effective dilation of the nostrils to let the air ow through more efficiently.
Powerful electric pumps
allow for an efficient flow of air. Peaceful sleeping and smoother clean breathing will not just be a dream. The
battery life lasts 8-10 hours
on a full cycle of charge, the perfect timeframe for the average deep sleeping cycle. 
Portable CPAP 
The CPAP Snore Stopper liberates your partner.
CPAP masks have difficulty maintaining a perfect seal on your face as you move during sleep. The sound of rushing air will wake up not only you but also your partner. The hoses used by the CPAP machine drag on the end table and on the bed, causing sleep disruptions. But our micro stop Snoring device creates a tight fit inside your nostrils with no hoses to catch on anything. Better yet, snoring is eliminated.
Specification
Material: ABS + Silicone
battery life: 8-10 hours
Type: Snoring
Function: Relieving Snoring and Aiding Sleep Apnea
Color: Random (Blue,green,white)
Package included:
1 * Snoring machine
1*USB Cable
1* User Manual