PERFECT FOR PLANTING BULBS, BEDDING PLANTS, AND SEEDLINGS
Planting bulbs and bedding plants and seedlings are now easier with the Garden Auger Spiral Drill Bit.
This drill head does the work for you and digs holes with ease. 
This tool is a must-have for all gardening enthusiasts. 
Perfect for planting tulips, iris, bulbs, bedding plants, and seedlings.
With its exceptional quality and value, it will stay durable and useful for years to come.
It will save you time and energy from manual digging.
It can quickly dig holes up to 17 inches deep and 3 inches wide using the power of your handheld drill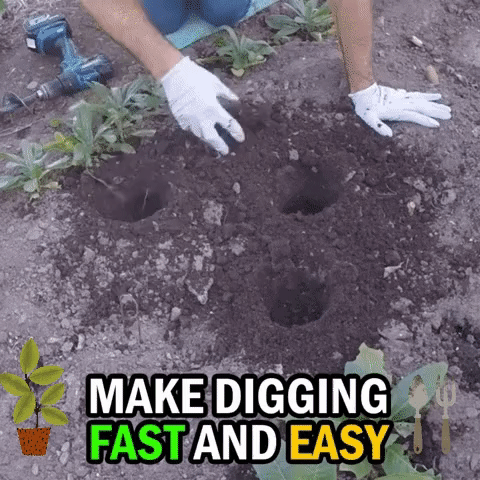 FEATURES:
PLANT MORE IN LESS TIME: The auger drill bit makes all of the guesswork in planting bulbs come true. 
Simply drill as far as the auger will go and lift the auger out of the hole – it is that simple!
VARIOUS APPLICATIONS: This spiral hole drill is the professional landscapers' choice for dramatically increasing efficiency when planting bulbs, potted plants, vegetables, flowers, bare root trees and a lot more.
EFFORTLESS DIGGING: Effortlessly dig post holes or even bring it on vacation to drill a hole in the sand to anchor your beach umbrella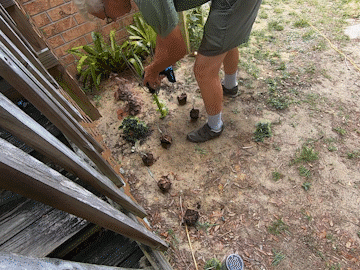 MACHINED POINTED TIP KEEPS IT STEADY: The pointed tip hits the ground first and keeps it steady when you are digging hard grounds.
It is also a minimal distance between the digging blade start and the point so auger drill bit will start working on hard ground without having to push down.
COMPATIBLE WITH ELECTRIC AND CORDLESS DRILL: Use in any electric or cordless drill that can accommodate a 3/8″ bit.
 The best tool for digging holes in your yard.
GREAT FOR DIGGING WEEDS UP BY THE ROOTS: Quickly digs holes up to 17 inches deep and 3 inches wide using the power of your handheld drill.
SPECIFICATIONS:
Material: Carbon Steel
Color: Black.
Weight: 200-600g
Size: 
Type (1) / 1.6*8.7 inch
Type (2) / 1.6*17.7 inch
Type (3) / 2*8.7 inch
Type (4) / 2*17.7 inch
Type (5) / 3.2*9.8 inch
Type (6) / 3.2*11.8 inch
Package Includes:  Auger Drill Bit
This Is A Great Gift For yourself or your friend!
Click "ADD TO CART" To Get Yours Now!