No longer do you dirty your hands and waste a lot of paper towels because of inking pens. It couldn't be easier. With just one tap, the fountain pen will automatically absorb ink within 10 seconds.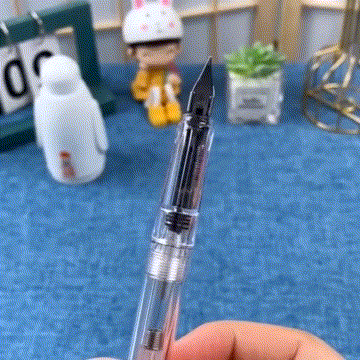 MAIN FEATURES:
NEW technology of fountain pen inking: The fountain pen inking process is fully automatic, and it can be completed in 10 seconds. No ink will be wasted. Your hands, desks, books or pens will not be stained. They can Keep your desktop neat and clean.

SUPER Easy to use: It only requires three steps. Open the cap of the ink bottle, insert the pen into the bottle mouth, press it lightly, and wait for 10 seconds for the ink to finish.
The LOOK is super cute. The ink bottle is made into a fat and adorable cartoon image which children are interested in. They will feel fun and love writing and studying when using our Automatic Ink Pen.
The material is ABS which is excellent and durable. We provide ink refills for your choice. So The ink bottle and pen can be used repeatedly.

Best gift idea of birthday, Christmas, Thanksgiving and other holidays for children, families and friends.
SPEZIFIKATIONEN: 
Color: Blue, black, blue black

Material: ABS

Nib Size: 0.5MM

Packet:  1* Pen+ 1* Ink