🧝🏻‍♂️The Smart Food Dispenser That Will Feed Your Pal!
Too busy at work to care for your pet to feed them? Our Smart Pet Feeder helps you to nourish your pets with your settings of customizable mealtimes and portions. With this fully programmable pet feeder, you can quickly set up your furry friend meal schedule based on your pet age, weight, or activities.
Besides, our feeder is perfect for some pets that need to help with weight loss or portion control and also have strong connections by feeding calls via your voice even when you are away. Our innovative robot will fuel on time and keep your pet healthy.


✔ Customize Feeding-

 

Our Smart Feeder provides up to 6 meals per day. Flexible meal portions can be divide according to your need, and the three-litre container provides enough dry food for your dog.
✔ Voice Recording-

 

With a voice recorder and speaker, our Dog Feeder can record your voice for 10 seconds to call your puppy or kitty for meals. Your sound will accompany your pet so they will not miss the meal when the food is ready.
✔ Built-in IR Detector- For your dog's happy mealtime, the IR detector will have the right angle to prevent the pet food from clogging or overflow.
✔ Program Panel-

Our pet feeder have many exciting and useful functions that can be excess through the high-quality LCD screen to feed your pets accurately and regularly.
✔ Backup Batteries Supply- Our Automatic Feeder can be power by a power adapter or 3 type D batteries. The batteries could keep the feeder work for more than two months, so do not worry about power issues when you are not at home or on vacation.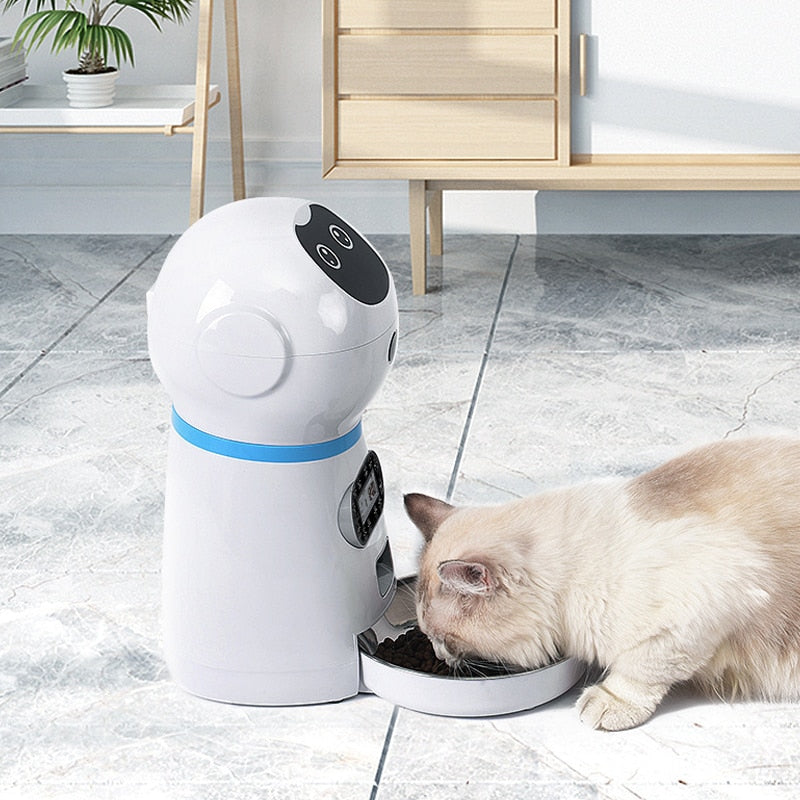 ✔ Suitable Capacity-

 

Our feeder automatic provides fresh food for your cat and dog smoothly for a couple of days, which assures you that it stay feeding when you are out for a short vacation or at work for long hours.
✔ Upgraded Design-

 

Our professionally designed pet feeder provides a human design and large capacity food storage tank. And you can easily remove it for cleaning. It is convenient and easy to operate.
✔ Accurate Meals Per Day-

 

After setting the accurate food volume for each meal, the selected food amount will keep your pet healthy.