MAKE YOUR HEADLIGHTS LOOK BRAND NEW FOR YEARS WITH THE LENSPRO ADVANCED HEADLIGHT REPAIR POLISH!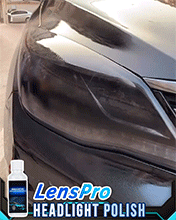 INSTANTLY REMOVE SCRATCHES, YELLOWING, DIRT, HAZE, CORROSION OR OXIDATION FROM YOUR LENSES IN 1 MIN.

IMPROVE YOUR NIGHT VISIBILITY AND PROTECT YOUR HEADLIGHTS FROM HARMFUL UV RAYS & FURTHER AGING FACTORS.

DUAL POLISH + COATING THAT REPELS WATER AND DIRT

Super long-lasting shield against UV sunray up to 3 years

Improve Night Driving Safety
Restore light output & light beam for clear illumination at night

Super Hydrophobic
Act as waterproof barrier coating over the surface of your headlight

Easy Use in 1 Min
Simply wipe to bring back the glow of your headlights

Safe & non-toxic. Not recommended to use with car refurbishment set or atomizer cleaner.

With this Repair Fluid get rid of damages to your vehicle without hurting the paint! No need to pay high prices to get these repairs fixed! Easy, convenient bottle & rubbing application process you can do at home! By eliminating the yellowing and fuzzy oxidation of the car lights, the appearance is greatly restored and the value is increased. 
Restore the shine & sparkle to your paint while treating unwanted scratches & swirls! The Repair Agent will give your trim surfaces superior hydrophobic and self-cleaning properties and will protect your trim for the long haul under any driving conditions while restoring them to a newer appearance. 
The Car Headlight Scraper is a super hydrophobic glass coating, acting as a sacrificial barrier coating over the surface of your car's coat, protecting your car from aging, fading, weather and sunlight erosion, acid rain, industry powder, etc. It can be used as a barrier on the surface of the headlight to prevent its aging, fading, weather and sunlight erosion, rain, dust, etc. 
Specifications: 
● Capacity: About 20ml