Don't let your beloved furry friend stray too far from home
The Your yard might be small. But that doesn't mean you have to keep your pet on a short leash. Wireless Plus technology lets your dog or cat play right up to the edge of your property.  Bluecalin Wireless Electric Portable Fence has an adjustable operating distance of 500m, which's 60% more distance than most wireless dog fences, making it the perfect fit for tight spaces or uniquely shaped lots. So, relax. And let your pet make the most of your (not-so-squared) yardage.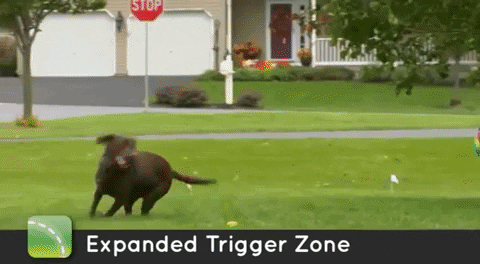 Our revolutionary portable electric dog fence don't only act as a containment system that helps to contain dogs inside the boundaries wirelessly, it also comes with a smart training feature to help you and dogs train effectively during the training day. We make it easy to set up, effective and affordable - It's time to give your dogs the freedom to play outside and earn the peaceful mind that you deserve.
Why Choose

 Bluecalin

 Wireless Electric Portable Fence ?
✔️ Effective Containment
With 3 types of correction, (beep, vibrate, and shock) dogs will learn and adapt quickly to the limitation and boundaries you've set. Keep dogs inside the fence and out of harm.
✔️ Cost Friendly
We know how costly installing a real fence just to contain a dog. That's why we make Bluecalin Wireless Electric Portable Fence  available for only a fraction price of a real fence so that every household with dogs can get benefit from it.
✔️ Easy Installation
Everyone can use Bluecalin Wireless Electric Portable Fence quickly and easily. Simply turn it on, pair it up, and put it into action. No digging or burying wire needed that causes damage to the yard.
✔️ Rechargeable & Portable
Move or travel a lot with your dogs? No worry! This device is portable, meaning you can easily take it anywhere with you and have it ready and set up everywhere.
✔️Adjustable Collar Strap
Do you have a big dog? or a small dog? No worries! The Wireless Dog Fence collar is a collar that fits all sizes of dogs. The collar range can be adjusted starting from 6 to 28 inches, suitable for dogs of all sizes (between 10 to 110 pounds).
✔️Connect Multiple Collars
With multi-sync, you can connect up to 3 dogs simultaneously. Connect the receiver to 3 different signal channels available on the base unit to train and manually send correction to your dog. Best protection for the pack.
✔️ Peace & Freedom
Let dogs play freely and happily inside the yard without having to worry of losing them. No more physical force of a leash on the dog's neck or on you. More freedom for dogs and a peaceful mind for you.

How does It Work?
The working principle of Bluecalin Wireless Electric Portable Fence is simple. The transmitter will track the distance of your dog by sending repeated signals to the receiver that is attached to the dog's collar. ­­
When the collar receives signal from the base unit, the collar is considered still within the safe zone boundary and no correction will be sent off. If for some reason the collar stops receiving signal (e.g collar goes out of boundary, signal blocked by obstacle, or the transmitter battery dies), the collar will be considered to be run out of the safe zone and it will start entering the working mode to send off the correction. 
The principle of the working mode is as follows:
Phase 1 - Collar will beep for 5 seconds;
Phase 2 - Collar will vibrate for 5 seconds;
Phase 3 - Collar will beep & vibrate together for 6 seconds;
Phase 4 - Collar will shock for 5 seconds;
Phase 5 - Collar will beep & shock together for 6 seconds;
Phase 6 - Collar will keep beeping until it returns and receives a signal
If the collar returns to the boundary and is able to receive back signal transmitted by the base unit, the collar is considered to have returned to the safe zone and it will stop sending off correction.
Works everywhere - Transmitter and collar are both rechargeable. You can easily take the wireless fence system along on a weekend trip and use it in an unfamiliar location for your pet.  
 Easy, Effective, Affordable
Package Included
1 x Transmitter (Built-in rechargeable lithium battery)

1/2/3 x Collar Receiver (Built-in rechargeable lithium battery)

1/2/3 x Test Light Tool

4 x Screws

1 x User's Manual English)

1 x Charger

1/2/3 x Strap

4/8/12 x Metal Probes

20 x Flag

   
FAQ's
1) Does it fit small dogs or hairy dogs?
The collar is perfect for any size. Just adjust the strap length to fit your dog's neck size. The hairy or trimmed collar can reach your dog's neck perfectly. Just attach the prong extender to the collar for your furry friend, that way it reaches their neck.
2) How long does the charge last on the receiver?
The charge lasts about 10 hours. Have in mind that if you have a lot of metal in the area the collar will tend to turn off 
3) Does the system work for square and rectangular yards?
The collar works for all types of terrain and yards. Even if your yard is sloped or has hills the transmitter works perfectly for the perimeter. 
4) If mounted inside, does the house become an obstacle or block the transmitter?
No, your house will not interfere with the signal. The built-in signal can even go through thick foliage and other items such as concrete and wooden walls. The signal penetrates obstacles easily ensuring a constant signal to the collar. This does not require WiFi or cellphone service to achieve. Turn on and pair, you're ready to go.