Make Your Littlun's Enjoyment Soar Beyond Limits
Looking for a unique and mind-blowing gift for your little one?
You're guaranteed to impress your friends, family, and even strangers with your littlun looking super cool in the process with our Bubble Gun Toy
 Order yours today to gift your Little one for hours of immeasurable fun.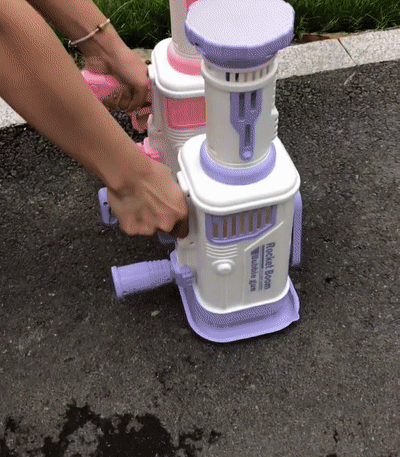 Are you a 'Fan' of 'Bubbles'?
You can have both with the Bubble Gun Toy. It

 can be used as a summer fan with the bubblehead removed or if you want a sea of bubbles then simply reapply the head and create a little bubble magic. With this 

2-in-1 function, It really is one of the most practical toys around
Safe for Littluns
The impressive machine has no sharp edges so you don't have to worry about your littlun's being hurt. Children can use it with confidence and enjoy the fun of bubbles whilst creating cherishable life memories.
Making memories 
The Bubble Gun Toy 
can stimulate children's imagination and creativity whilst using colorful bubbles to enrich your littlun's childhood memories. It can even be used to interact with babies and bring more stimulation and a sense of happiness and well-being.

Perfect bubbles for perfect littluns
The porous structure of the Bubble Gun Toy means no sticky and foamy bubbles. Perfect little ones deserve perfect bubbles.

Hours of fun
The Bubble Gun Toy has been upgraded to a new level for the kids to have more fun out for longer. Its sustainable power function means your littluns are guaranteed hours of fun.

Drop it all you like
With a firm and durable reinforced shell, there will be no more worrying about your naughty littluns being rough on this toy. With there being no sharp edges, no odors, and bubbles. You don't have to worry about your baby being injured. Children can use it with confidence and enjoy the fun of bubbles.
Party Time
Being suitable for indoor and outdoor activities makes the Bubble Gun Toy suitable for almost any occasion.
Whether you plan to
host a party for your little ones or celebrate their birthdays, our bubble guns are
the highlight of any party.
Product Information:
Bubble Gun Toy
Bubble water bottle (Without bubble water)
Bubble basin
lithium battery
Charging Cable
strap
This Is A Great Gift For yourself or your friend!
Click "ADD TO CART" To Get Yours Now!