Easy to Install & Use: This is a funny cat stick. You can change the feather to a ball and play with your cat. It's easy to install and use. Different cat sticks bring more fun to your cat.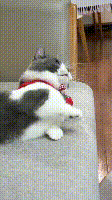 【THE PERFECT INTERACTIVE CAT TOY】This is a funny toy for the cat to interact you. The owner can press the trigger to activate the cat ball/feather, and release the trigger to make the cat ball/feather automatically rebound.The process between popping and rebounding can attract cats' interest in playing, and it is also can be used as a puzzle toy that enhances the intimacy between you and the cat.
【IMPROVE CATS' PHYSICAL FITNESS AND HEALTH】Because this product will strongly attract the cat's interest, so the cat will increase the frequency of body movement during playing,so that if the cat often play with this toy can improve physical fitness.
【DURABLE PRODUCT AND EASY TO USE】the toy is made of ABS material that is considerably firm, safe, and durable, so you do not have to worry that you will accidentally damage the toy. It's easy to use and can be used for a long time. And the toy is suitable for all ages and different kinds of cats.
【BOREDOM BUSTERS THAT RELIEVE KITTENS' ANXIETY】In the process of interacting with the owner, it can increase the happiness of the cat, relieve the anxiety of the cat's daily boredom, so that the cat will not have the habit of destroying the family's furniture and clothes any more.
【ATTENTION!!!】Because this product will strongly attract cats' interest in playing, it is recommended to play for 20-30 minutes each time.long time playing will overdraw the cat's physical strength.
This Is A Great Gift For yourself or your friend!
Click "ADD TO CART" To Get Yours Now!