😼 Keep your cat hydrated and entertained with the Cat Waterfall Dispenser Bowl. Cats often times hate drinking out of ordinary cat bowls and will opt to drink from the sink faucet. If your cat hates drinking from their ordinary water bowl, the waterfall dispenser bowl is the perfect choice.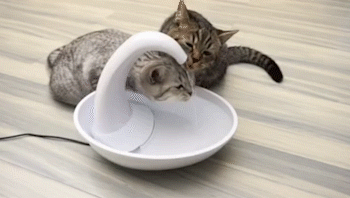 😼 Our waterfall fountain provides a constant stream of water, inviting your precious furbabies to drink more! This is extremely important because your cat drinking plenty of water can help them stay healthy and hydrated! 
😼 This will also help to prevent urinary tract disease which is a common health concern for cats. Don't hesitate to upgrade your cat's water drinking experience.

😸 How To Install?
Step 1. Install the power cord
Step 2. Install the motor water regulation
Step 3. Install the filter
Step 4. Install the water outlet and connect the rubber hose
Step 5. Install the tap cover