Tired of Cleaning Messy Cat Litter Scattered on the Floor? You're in luck! The Cat Litter Mat will be your assistant in making your life easier!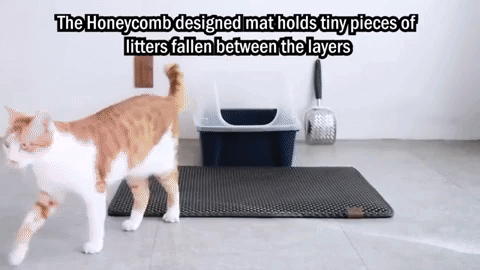 We have the perfect solution!

 Effectively captures kitty litter in its honeycomb double-layer design

 Stops kitty litter spreading throughout the room and house

 Saves valuable time of endlessly cleaning, keeping floors clean

 Saves on kitty litter wastage, saving $$$

 Easy to use, clever design, one step removal

 Strong & Durable, Soft on cats

 Non-slip, water-resistant, light-weight
The litter trap mat is guaranteed to catch litter granules tracked out of the Litter-Robot with its heavy-duty top mesh layer. How does it work? Litter granules are trapped on a urine-repellent mat below. Simply pull off the top layer and discard the trapped litter! The urine-repellent plastic film on the mat makes it easy to clean up accidents—so if your cat occasionally goes outside the box or isn't always able to make it to the litter box in time, you won't have to worry. NOTE: Do not place the litter trap underneath the Litter-Robot (fully or partially). Place only in front of the Litter-Robot.
Features:
✔️Material: EVA. Made of high-quality waterproof material, eco-friendly, washable, recyclable, wear-resistant, and fade-resistant. Size: three sizes:  40 x 50cm / 45 x 60cm/55x75cm
✔️Double layer honeycomb: Double layer honeycomb design helps you collect litters on the top layer and let them go through the holes to the bottom layer. Prevents litter from scattering around. The lower layer is waterproof and long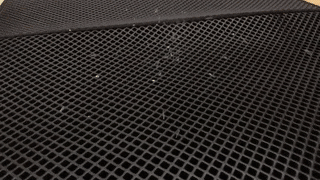 ✔️Gentle and Safe: Many other mats use rough materials that can injure kittens.
✔️Our premium comfort mat is free of phthalates and our super soft EVA material is gentle on sensitive cat paws. Cats even like it
✔️WATERPROOF AND LEATHER BORDER: Cat litter mat's premium water-proof bottom layer made from Lightweight, Durable, Non-Toxic EVA Foam Rubber, it keeps wooden floors dry and is anti-slip. Leather edging prevents urine accidents from being transferred to your floors
✔️EASY TO CLEAN: Our cat litter mat is much easier to keep clean than loofah-type mats. One way open edge allows for easy cleaning under sink head, shower head, or shake off. And just spread the edge out, you can easily pour the unused litter back into the litter box
This Is A Great Gift For yourself or your friend!
Click "ADD TO CART" To Get Yours Now!