Your cat needs a cat toy like this! Cats Go Truly Crazy For This Cat Toy! 
To satisfy the cat's curiosity,91.2% of customers will buy two chick laser toys for their pets!(BUY 2 SAVE 15$,BUY 3 SAVE 25$)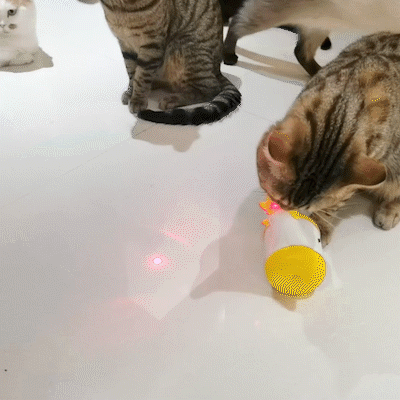 [Multi functional toy] This product is a multi functional electric cat toy, which integrates multiple functions such as infrared light ,squeaking,catcalling,self -weight balance movement,swing forward and backward etc,which can effectively attract cat's interest of playing.The emitted laser will not cause any harm to the cat

[Interactive infrared] The product has an automatic sensor switch function.When cat touches the toy ,it will swing back and forth.The head of the toy will emit infrared light,to attract cat's attention, and it will create as light chick sound.You can manually turn off the sound function, so your cat can play without making noise again

[Cat calling device] This toy has an independent cat calling device switch .When it is turned on,the toy will create a special sound ,to call nearby cats,If your cat is naughty and leaves your sight area, you can use this function to call the cat back.


[Easy to use] This toy is made of environmentally friendly and healthy ABS,strong and durable,and will not be damaged by pets.



Cats often play with this toy,which can relieve the anxiety of the cat's daily boredom.So that the cat will not have the habit of destroying family furniture,clothing,etc.

Length:3.66 in Width:2.87 in Height:5.39 in Total weight:7.76 oz