Do You Like To Travel By Car With Your Pet?
But maybe you worry about the dirt and pet hair in your car seat. This Quality Waterproof Dog Car Seat Cover Hammock with Zipper & Side Flaps will be the perfect solution to your problem!
Our Waterproof Dog Seat Cover lets you keep your car interior squeaky clean as you travel with your dog. This quick & easy to install car seat cover protects your back seat from unwanted scratches, fur, spill, and dirt carried or produced by your favorite furry buddies as you take them along with you on your road trips.
Made of durable & resilient polyester material, each hammock cover is tailored to provide unparalleled levels of backseat protector, while at the same time, remains soft, cozy, and comfy for your dog. Best of all, it fits perfectly with almost all types of vehicles. From sedans, SUVs, trucks, and more.
UPDATE: Due to high demand, we're officially limited on supply. Make sure to place your order promptly.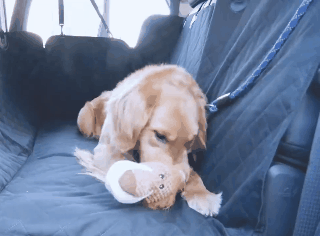 ✔️ Durable, Waterproof, And Completely "Wear & Tear" Resistant
Our Dog Car Seat Cover Hammock is made to withstand daily wear-and-tear from dogs of all sizes and breeds thanks to its ever-resilient hypoallergenic nylon finish. Protect & preserve the seats, side panels, and the flooring of your car, truck, or SUV from scratches, pet hair, leaks, and accumulated paw dirt. 
✔️ Accommodates Cars, Truck, Or SUVs Alike
With the intention of giving you extra convenience, Our Quilted Dog Car Seat Cover Hammock comes with a "universal fit" size that slides easily on different varieties of vehicles. It simply never fails to fit just right no matter what vehicle you may own.
✔️ Pet-Centric Design
Aside from its protective properties, Our Dog Car Seat Cover Hammock remains to be a pet-friendly solution when it comes to the level of comfort it provides. Thanks to its breathable materials, you'll never have to worry about your pet's comfort as you drive, and thanks to its non-slip base, you'll never have to worry about your dog slipping towards the dashboard whenever you hit the brakes. 
✔️ Quick And Easy To Install
Installation is straightforward and easy. No tools or professional help required. All you need to do is to unfold the hammock, mount each safety strap around the front and rear headrest of your vehicle, lay the hammock flat, and you're all set. Keep your car's interior protected in less than 5 minutes. 
Dog Car Seat Cover Hammock Dimensions:
Main Features:
HAMMOCK WITH SIDE FLAPS

 

- It is easier for your dog to get in or out of car. Also side flaps can protect your car door from scratch, hair. Versatile split zipper hammock to allow pets and kids can share the back seat when zip up for a full hammock or zip down for half/half so dogs and passengers can travel together
EXCELLENT SIZE

 

- Excellent size of 51" W x 59" L will perfectly protect your car from scratches or mud. Now you can enjoy family excursions without damaging your car! Our product covers the entire back seat, for ultimate protection and hassle-free rides.
WATERPROOF- Constructed by 100% heavy-duty oxford fabric, our product is built to last for a lifetime - its waterproof and scratch-proof quality will save your peace of mind! Forget about cleaning it all the time!
ADJUSTABLE TRAPS AND SLIPS

 

- Allow you to install it perfectly for most of vehicles such as a sedan, jeep, SUV, minivan, small truck, trunk, hatchback, carrier or trailer.
NON-SLIP & SAFE

 

- Our pet seat cover has a non-slip surface to prevent your dog from slipping every time you apply the brake. Also built-in non-slip backing and seat anchors to prevent seat cover from sliding around. Built-in Velcro openings for your seat belts. All this to ensure your dog safe, safety is always priority.
EASY TO INSTALL & CLEAN

 

- Easy to install with quick release clips. Just snap the buckle straps around your car's headrests and tuck in the seat anchors. Easy to clean with a damp cloth or vacuum.