NOW BACK IN STOCK! THE CAT LOVER HOODIE CUDDLE POUCH!
Have your furry little friend jump inside the Hoodie Pouch and have them snuggle up with you. Perfect for pets that want to play along with some entertainment.
You will have fun for hours on end!
Comes in a range of colors to match any of your outfits.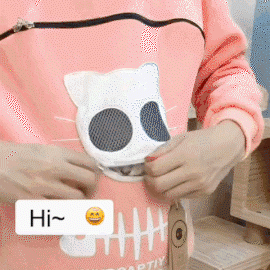 PRODUCT DESCRIPTION:
Materials: The original & premium Cat Lovers Hoodie is made of the highest quality 100% Cotton.
Quality: Strong zippers and snaps & durable, and stylish looking pullover pet carrier hoodie.
Specs:

 

The Cat Lovers Hoodie has a soft, removable, machine-washable liner that allows for ease of cleaning.
Enjoy With a Cats, Dogs or Other Small Pet when lounging or walking around.
Enjoy Without a Pet and Look Stylish: Women like to look their best at all times.Perfect for casual, day and night outfit, vacation, work
Size Chart
HOODIE FEATURES:
100% Cotton

Suitable for pets: dogs, cats, small animals.

The ultimate way to cuddle your dog, cat, or any other beloved animal.

while resting at home, you can interact with the pet, to enhance the feelings, big pockets can also put cell phone, iPad, or snacks. Home essential goods!

Small pets will love snuggling up in its fur-lined pouch.
Specifications:
Size: S, M, L, XL, XXL, XXXL
Color: Beige, Red, Black, Yellow, Pink
Material: Cotton
Feature: Warm
Style: Cute, Funny, Luxury
Suit for: Small Cat, Puppy, Very Small Dog
Tag: cat pouch hoodie, sweatshirt cat pouch hoodie, cat pocket hoodie, sweatshirt with cat pouch, cat carrying hoodie, cat holder hoodie, cat carrier sweatshirt, cat lovers hoodie cuddle pouch, cat pouch hoodie sweatshirt, kitty pouch sweatshirt, cat holder sweatshirt, sweatshirt to carry cat, dog pouch hoodie, pet pouch hoodie, rabbit pouch hoodie