This dog grooming hammock can help your pet take a bath at home without spending extra money on the pet salon. At the same time, it makes your pet feel very comfortable and relaxing.
Feature:
【Comfortable and Soft】Dog grooming hammock is made of top-grade flannel polyester fabric. It is breathable and brings your pet comfortable feelings. Can also be used as a bath towel.
【Thicken Design】Thickened edges of the front and rear legs can reduce friction with the material to protect the pet. Keep the puppies as calm and relaxed as possible.
【Reinforced Hanging Rings】We have reinforced the hanging strips as well as the edge of each side. Then the dog grooming hammock will be very tough and won't be easy to tear.
【Strengthened Accessories】The S shape hooks and the fixing slings are also thickened which ensures that the pets won't break the grooming hammock or the accessories and fall down.
【Powerful Functions】Using dog grooming hammock that you can easily accomplish the same functions when the pet in the grooming table, such as trimming nails, taking medicine, cleaning teeth, bathing, ears and eyes health caring. You can groom and check puppies'  body condition at home.
【Easy to Clean】This dog grooming harness is easy to clean. You can choose hand washing or machine washing. No shrink or deform, reusable and can use for a long time.
Specification:
Material: Flannel fabric

The max load: 38.6lbs

Suitable for small and medium-sized dogs and cats

Size: Small, Middle, Large
Note:
Since the pet may scare you when you use this for the first time. Be patient enough the first time.

Measure the gap between the front and rear legs for your pets before purchasing.
Instructions for Use: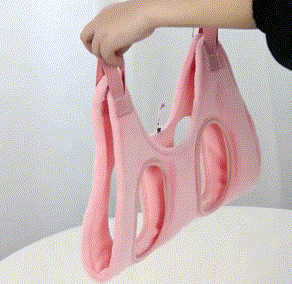 Just unfold and flatten the pet grooming hammock, put the cat or dog's four legs into the corresponding four holes.

Then wrap the hammock up and hang it with the two S shape hooks.

Last hang it on the pole directly and adjust it to ensure he or she has a comfortable posture.
Package Includes:
1*Dog Grooming Hammock

2*S Hooks