You and your dog will love this Nail Grinder!
Now clip your furry buddies' nails without scaring them off with this Dog Nail Grinder. This is an exclusively designed nail grinding device that that gently removes thin layers of excess nails with a grinding head.
This silent and automatic nail trimmer can be used safely on dogs and cats which gives a professional finish to their nails. It offers a safer, convenient, and comfortable grooming experience for your dog in the comfort of your home.

FEATURES:
Comfortable Grooming at Home: No matter how experienced your dog groomer is, unknown faces always terrify your fur baby and make them extremely uncomfortable which often ends up in accidental cuts and scrapes. With this pet nail trimmer, you can grind your pet's nails at home on your own while they sit comfortably with you.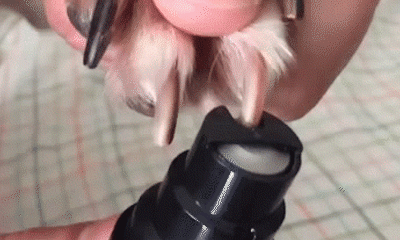 Safe For Your Pet: No more worrying about overcutting or accidentally injuring your pet. Unlike nail clippers, this pet grooming tool is incredibly compact, quiet, lightweight and painless which keeps your pet stress free. The grinding head is covered with a stationary bushing allowing you to avoid cutting too quickly.
Ultra Quiet and Powerful: The grinder is equipped with low vibration and a quiet yet powerful motor that makes nail care a hassle-free and comfortable experience for you and your beloved pet. It's precision filing gently removes a thin layer of the nail, keeping their paws safe and nails groomed.
USB Charging: This cordless dog nail clipper can be easily charged using any portable charger, adapter, laptop etc via USB port. This eliminates the need to replace batteries every now and then.
Detachable Grinder; Easy Cleaning: Keep the grinder ready for another trimming session. Simply remove the grinder, clean it with any towel or tissue and use it again for your other pets. Enjoy mess-free cleaning every time. 
Your Pet's Best Friend: This nail trimmer is suitable for cats, dogs, rabbits, guinea pigs, hamsters, birds, etc. It is equipped with 3 ports, small, medium, large for different nail sizes. Simply select the opening as per your pet's nail size and get going.
PRODUCT SPECIFICATIONS:
Charging time: 2 hours
Running time: 3 hours
Input: AC100V-240V 50HZ/60HZ
Output: 5V/350MA
Charging mode: USB charging
Battery: Built-in battery
PACKAGE CONTENT:
1x Pet Nail Grinder 
1x USB Charging Cable
1x User Manual
This Is A Great Gift For yourself or your friends!
Click "ADD TO CART" To Get Yours Now!