Our best-selling Dog Seat Belt allows your pooch to move around safely on their seat but avoid distracting you, the driver.

🎯Suitable for the front or back seat.

✨Unique elastic bungee is designed to absorb shock.

🎨Adjustable tether: one-size-fits-all.
Every Unrestrained Car Journey Puts You And Your Dog At Risk...
Each day, thousands of dog owners drive their pups around in the car. The dogs walk up and down the back, climb all over the seats, and get in and out of the driver's lap. In case of a crash, this can be extremely dangerous for the dog — and it can be risky for anyone else in the car as well.

We understand what it's like to want to bring your dog with you wherever you go. When you hop in the car, the first thing you do is clip the seatbelt across your lap. But what's available to keep a dog re-strained in case of an accident?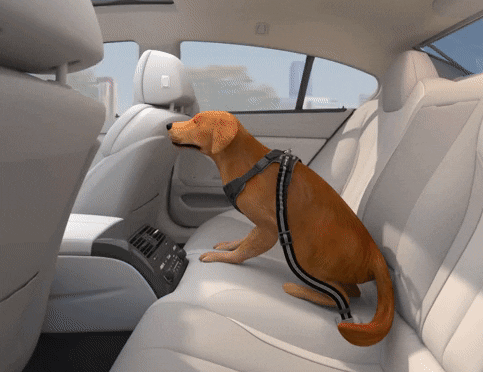 Introducing the World's No.1 Bestselling Car Seatbelt For Dogs
The Dog Seat Belt is a breakthrough new invention that protects your dog in the car. One end of the Seat Belt simply clips into any standard Seat Belt slot. The other end clips into your dog's harness.

The result is that with the Seat Belt, your dog is safe, comfortable, and under control while you get to drive without distraction or disturbance. Because you wouldn't allow an unrestrained toddler in the car — so why do it with your dog?

What You Get With Our Feature Packed Pet Seatbelt...
🎯Tested and Proven: our seatbelts have been tried and tested by 100,000's of dogs around the world and growing.

✨High-Quality Materials: Each seatbelt is made from heavy-duty fabric.

🧨Adjustable: Our seatbelt adjusts from 53 to 74 cm and features a bungee cord design aimed to reduce shock during any sudden jolts.

⚾Swivel Head Clasp: The 360° clasp was designed to avoid your dog getting tangled in the leash if they move around the seat.

🥂Fit For Any Vehicle: Since our seatbelt takes advantage of the regular, standardized car seatbelt buckle it will fit with the vast majority of compact, SUVs or trucks.