Arms Sore from Pointing Laser Dots All Day?
We get it... in the midst of these troubled times, our outdoor activities are remarkably limited.

Dropping by the pet store to buy toys for our kitties is something we only have so much time for.

And since our cats need at least half an hour of daily exercise. Having a fun indoor toy will certainly do the trick.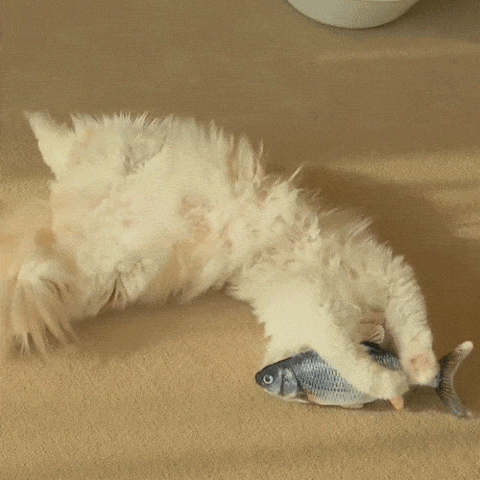 🐾 Hands-Free Toy
You don't have to get involved in your cat's playtime. The toy is fairly easy to operate. Just charge it, unzip it, turn it on, tap it and watch your kitty have fun.
🐾  Natural Catnip
This Moving Fish toy contains a pouch of natural catnip - you can of course slip some of your own in. It's a great stress reliever for anxious cats, helping them to relax, rest and unwind in unfamiliar places.
🐾 More Free Time for You
This fish-shaped cat toy has an automatic on/off function. You don't need to monitor your cat's playtime. It entertains your furball for hours, gives it a proper workout, and feeds its curiosity.
🐾 Easy to Wash and Maintain
The fish toy is detachable; simply unzip it, take the device out, wash it, put it back in and repeat.
🐾 Harmless to Your Kitty
This realistic fish toy is 100% cat friendly. It is made of soft, safe, non-toxic, premium materials that cover the main unit inside.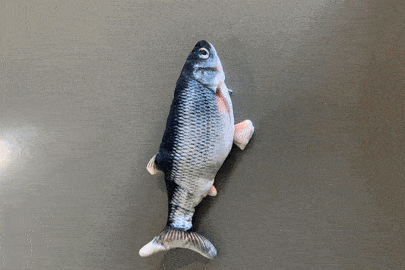 This live fish-like toy is the perfect solution for indoor training, and also, anxiety escapes for house cats.
The toy is battery operated and USB rechargeable and as soon as you touch it, it starts flapping around just like a fish.
You can increase your cat's interest by adding catnip to the toy's secret compartment.
Cats love it, we guarantee it!