Did You Know Cats Get Depressed Too? Cats actually show signs of being clinically depressed, in a way that affects their physical health and quality of life. Cats become depressed through a lack of stimulation. This realistic fish is designed to keep your cat active and healthy.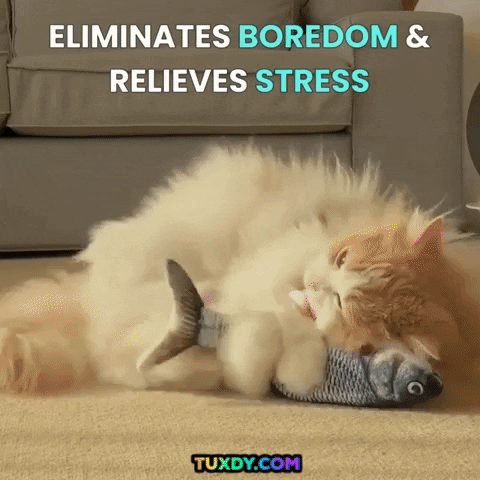 Boredom is a trigger of depression for cats and humans alike! Increased periods of playtime is recommended by vets to avoid depression in cats. Floppy Interactive Fish can help you solve all these problems, and give you an active, lovely and healthy cat.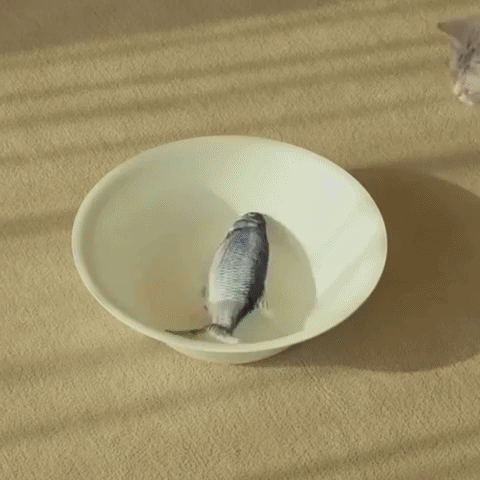 How It Works? Flipping the switch on enables the motion sensor that attracts your pets attention with its lifelike movements . The built in stand-by mode keeps the battery from draining when the fish is left alone. Three different wiggle-modes imitates real fish tail movements. This combined with the high quality lifelike fish cover fires up cats natural hunting instinct and tricks any off-guard guests! When turned off makes for the perfect cuddle partner to help your cat relax at night without accidentally activating the fish.
It flips, flops and wiggle just like a real fish. Floppy Interactive Fish is designed to keep your cat engaged and active and provides hours of fun and entertainment. Rechargeable battery lasts for 3 days. It has a built in motion sensor that activates the fish when your cat is near it and stops to save the battery when it is not touched after 30 seconds.
Motion Detecting Motor Inside – Kicks Just Like a REAL Fish When Touched. Stops Itself When Left Alone. Length: 11 inches (30 cm). Once the fish is charged and turned on, the flopping movement is activated by a motion sensor that is inside the fish.
Built-In Rechargeable Battery: Floppy Interactive Fish comes with a USB charger, and a built in battery that lasts a few days after a full charge. This would be enough time to entertain your cat and relieve the stress throughout the day. You don't have to worry about replacing the battery. For the safety of your pet, the battery is protected in a hard plastic shell. Cats won't be able to damage or bite into the battery. It is completely safe.
Refillable Catnip Pouch – Cat Safe Velcro Pocket is Easy to Refill with Catnip Over and Over Again! Your order comes with a USB charger, catnip, motor with built-in rechargeable battery and the washable fish fabric. Floppy Interactive Fish is designed to promote exercise and fun interactive play, reducing stress and keep your cat healthy.
We are adamant in providing the best quality products available for a long lasting and invaluable experience. Only top grade materials used in the plush and its mechanism. The safety of your pets is always on our mind.
Tough Enough To Handle The Fiercest Hunters: Floppy Interactive Fish is made of high-quality, washable fabric. You don't have to worry about the safety and durability of the toy when it is being scratched or bitten by your cat or puppy. Even small dogs won't be able to damage or bite into it. We have tested this toy with more than 100 different cats, small size dogs and puppies to make sure it is durable enough for your pet.