If your cat lacks the necessary exercise except eating and sleeping, it will be tired and sleepy, lacking of vitality, becoming lazy and obese. People need company, so do cats. Choose this tumbler toy for your cat —- A funny cat companion.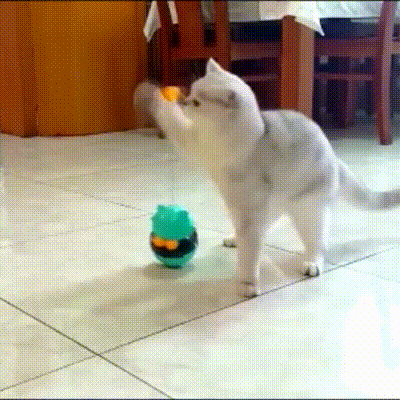 Cats cannot refuse the temptation of this toy = Tumbler + Double Balls + Feeding + Funny Cat Stick!
【 HIGHLY INTERACTIVE 】 Two balls that spin around the track + funny cat stick, attract the cat to scratch and play, the structure design of the tumbler can be rotated 360 degrees on the ground without consuming batteries.
【 AUTONOMOUS FUN TRAINING 】 Eating while playing, the unique feeding function allows the cat to get snacks by nudge, which will encourage the cat to continue chasing so that the cat can exercise and keep health.
【 ADJUSTABLE FOOD DISPENSING 】 Different from other cat treat toys in the market, our cat slow feeder ball can be adjusted the size of two food dispensing holes based on needs to control how fast your pet eats.
【 SAFE & DURABLE 】 The upper and lower parts of the tumbler toy are made of PP, environmentally friendly and easy to clean; the transparent PC material in the middle allows the cat to see the snacks inside and be attracted easily.