EARLY

HOLIDAY

SEASON

SPECIAL

, we are giving away 40 Bonus Pieces for

FREE in each play set package and bigger discounts for additional play sets! Stock is

LIMITED, so buy before it runs out!
THE TRAIN SET THAT AUTOMATICALLY LAYS OUT DOMINOS PERFECTLY!
Placing dominoes has never been so easy and fun. Fill the magazine cover and place it onto the tank engine and watch it drive around easily placing the dominoes at just the right distance one by one.
Product Highlights
🚂 Endless Domino Fun- Have more time having fun and less time setting up. This toy automatically places dominos with accurate precision and all you have to do is push one and watch the chain effect of the dominoes tumbling.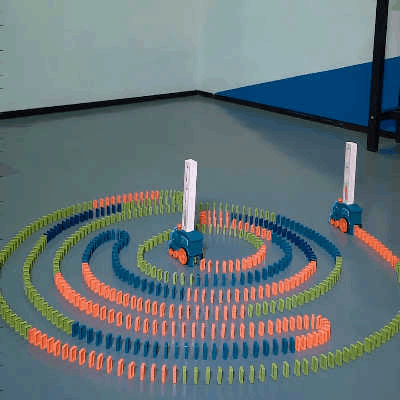 🚂 Early STEM Development- Want your kids to have a STEM focused future? This toy develops children's color recognition and spatial thinking skills and will keep your young engineers coming back for more enjoyment.
🚂 Kid-Friendly Design- For kids to have the greatest enjoyment, the setup process was meant to be quick, simple, time-efficient, and problem-free. The materials utilized are designed to keep kids safe while they play.
🚂 2 Toys in 1- Combine both of their joys of a train set and a dominos kit into one great product. An obvious choice for the astute parent.