Suitable for every size of drain hole!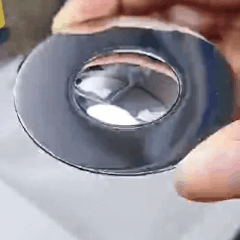 This Universal Pop-Up Sink Drain Filter Plug is a new and useful product for home use. This drain cover is designed wonderfully to fit all standard sink drain holes. It is compact in size and easy to use. This is a great product for home use as it is easy to install and can protect your sink drain from debris and other unwanted kinds of stuff. Keep unwanted hair and debris from clogging your drain and causing slow, annoying backups.
Pop-up design overturns the traditional, inconvenient drain (e.g., basic plug with chain)! Just press the top cap down gently to switch 2 modes – stopper (to keep the water) and strainer (to drain off the water).
Unlike a regular push-button drain, this drain stopper has an anti-clogging basket strainer inside that neatly collecting hairs and prevents the drain from clogging up stuff that will not get into the drain, such as jewelry, ring, dirt, and so on.
Thickened stepped silica-gel gasket, no glue needed, Oxidation resistance, and leakage proofing.
Integrally molded and seamless, the rubber ring around our built-in basket keeps the stability; it will not tilt when you push the button, so you don't have to worry about sealing and drainage.
The pop-up sink drain is made of anti-explosion and anti-cracking thickened quality stainless steel material, with durability, flat and comfortable touching finish, can resist rust, corrosion, and tarnish; The vessel sink drain is equipped with 1 heavy brass nut, and 2 thickened stepped silicone gaskets, ensuring its leakage proofing and oxidation resistance ability.
Anyone can install the pop-up drain because of its simple structure; no tools are needed, just take out the old one and insert the bounce core to complete it.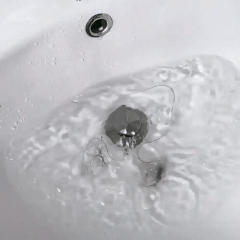 This Is A Great Gift For yourself or your friend!
Click "ADD TO CART" To Get Yours Now!