Darkness shouldn't keep you from enjoying a run, ride or walk.
Our high visible Night-Safe Multi-color Illuminated Reflective Strap is for night-time safety while running, cycling, or any other outdoor activities. LED cables light up and flash multiple colors to warn oncoming motorists that you are there.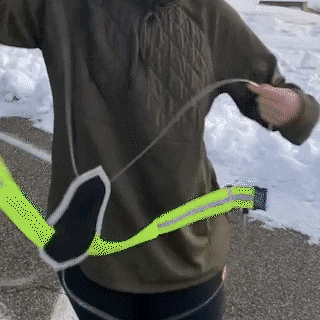 Never worries about the safety of night activities. This reflective vest allows you to be spotted at 200 meters, keeping drivers away.
This safety vest is adjustable for a perfect and comfortable fit. Multiple sizes for children, women and men. Enjoy the night running, walking or other activities with your family or friends.
MAIN FEATURES
High Visibility - Visible from Every Direction
The flash lights are very bright and noticeable, making night time activities or exercise safer and allowing the driver to see you from far away (200 meters away).
Multiple Uses
It is suitable for any night time activities, such as night running, walking, cycling, pet walking, jogging, camping, etc., keeping you safe.
High Quality
Made of premium TPU material, it is hand washable (take out the LED group before washing). Slim, minimalist design for less fabric contact to your body. It is light weight, breathable and comfortable to wear, easy to carry and store, does not take up space. LED cables have an adjustable sliding clip that can be adjusted up or down for the most comfortable position. 
Highly Adjustable
Wear it anytime of the year. Expand it to fit your cold-weather coat or jacket, or adjust it to fit more comfortable T-shirt or tank top for hot summer evening events. Whether spring, summer, autumn or winter, it can meet all your needs, even rain and snow will not slow you down with its waterproof design.
SPECIFICATIONS
Material: TPU light guide fiber


Color: Black, Pink, Green, Blue, Orange


Size: One size 


Reflective Distance: over 200m/ 656.17 feet


Waistband Length: Adjustable 40-110cm/ 15.75"-43.31"


Fiber Optical Diameter: 0.3cm/ 0.12"


Weight: 220g


LED Controller: Dual Box Independent Control


LED Quantity: 4pcs


Battery Type: 4pcs 3V 2016 Battery (Not Included)


Package Includes: 1x Night-Safe Multi-color Illuminated Reflective Strap