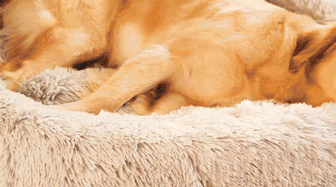 Does your dog suffer from anxiety and cannot seem to relax? Our perfect calming dog bed will help relieve those traumatic tensions by offering a soothing environment so your pup may rest easily with a good night's rest. The Orthopedic Anti-Anxiety Calming Dog Bed provides comfort and supports better sleep for your furry friend through its unique and high-quality design.
PLEASE NOTE: ALL DIMENSIONS ARE MEASURED MANUALLY WITH A DEVIATION OF 1 TO 2 INCH, WE RECOMMEND TO BUY ONE SIZE LARGER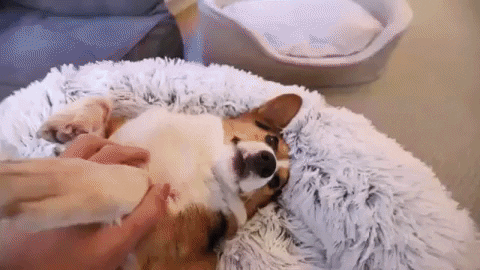 Grade A fluffy materials (beware of imitations!) – What separates our bed from our competitors? We use Grade A filler materials meaning New Bark City's dog beds are fluffier, softer, and more comfortable compared to our competitors! We don't skimp out on those fillings because your pet deserves more!
Supports better sleep & relieve joint/muscle pain – The donut-shaped dog bed is designed to reduce stress and calm your pet's anxiety. The raised rim helps create a sense of security and provides additional head and neck support for your dog or cat. Additionally, the center is stuffed with super-soft filling to relieve any joint or muscle pain for your pets.
Superior orthopedic comfort – Orthopedic, cozy, flexible, and finished with shaggy faux fur, our premium luxury calming dog bed is reminiscent of a mother's fur coat! Paired with deep crevices that allow your pet to burrow, your doggy will have a full, restful sleep for improved behavior and better health.

Trendy and versatile design – Our luxurious anti-anxiety dog bed also comes with 20 beautiful colors and is a seamless addition to any room's décor! The bottom is also designed with an anti-slippery pad to prevent bed from moving across the house.

Environmentally friendly and hygienic – Made from anti-bacterial faux fur cover and durable nylon, this bed is very successful at resisting odor. This will create a comfortable and hygienic place for your dog.
Pet-safe materials – Durable nylon and luxurious faux fur come together to create environmental-friendly dog mattresses that are as practical as they are comfortable! Our orthopedic dog bed is also machine-washable and dry-friendly. Please note to dry immediately after wash. 
SIZING
The Small (20″x20″) for cats or small dog breeds up to 11lbs.
Example breeds: Pomeranian, Chihuahua, Bichon Frise(small), Shihtzu(Small), Maltese, Yorkshire Terrier, Toy breeds.
The Medium (24″x24″) bed is suitable for dog breeds up to 25lbs.
Example breeds: Bichon Frise(large), French bulldog(small), Boston terrier, Shihtzu(Big), West Highland Terrier, Cavalier King Charles, Jack Russell(Small), Miniature Schnauzer(Small).
The Large (28″x28″) bed is suitable for dog breeds up to 39lbs.
Example breeds: Cocker Spaniel, Jack Russell(Large), French bulldog(large), Miniature Schnauzer(Large), Bedlington, Beagle.
The X-Large (31″x31″) bed is suitable for dog breeds up to 55lbs.
Example breeds: Bulldog(small), Staffy, Boxer, Lhasa Apso, Poodle(Large).
The XX-Large (39″x39″) bed is suitable for dog breeds up to 90lbs.
Example breeds: Bulldog(large), Pug, Pitbull, Basset hound, Border collie, Kelpie, Labrador, Rottweiler, Golden Retriever, Dalmatian, Whippet. German Shepherd(Small), Weimaraner, German Short Haired Pointer, Shar pei, Husky.
INSTRUCTIONS & CARE
Calming Pet Beds and Anti Anxiety Pet Beds come vacuumed rolled for cost-effective shipping.
The pet bed will take 3-5 hours to regain its full size, so please be patient as it expands.
If your dog doesn't take to the bed immediately, try clapping your hands, or place one of your dog's toys on the bed. This will help acclimate your dog to the new bed. Food or dog treats can be used too, but only for a short period of time to avoid having your dog associate the bed with feeding time. 
Machine wash, gentle cycle. Tumble dry, low heat. We usually recommend hand washing. Easy care for the bed makes your pets are easier to keep a comfortable and clean sleeping space.
This Is A Great Gift For yourself or your friend!
Click "ADD TO CART" To Get Yours Now!