No Dog Deserves To Feel Frightened Or Left Behind!

PRODUCT HIGHLIGHTS
 DON'T EVER HAVE TO LEAVE YOUR DOG AT HOME AGAIN – We know how hard it is to leave your pup behind and having to face those sad puppy dog eyes. Our Doggy Rucksack is designed so you can take your pup with you: cycling, hiking, shopping, etc. The possibilities are endless!
 SAFE, COMFORTABLE, EASY & FUN – Our Doggy Rucksack is made from high-quality, breathable, mesh material to keep your dog cool in any weather so you'll never have to worry about them overheating! See our features section for all the details that have your pup in mind.
 CONVENIENT FOR EVERYDAY USE AND TRAVEL – Unique peep-hole window design allows your dog to keep their head extended, ventilate, and visible to have more communication and interaction with you. 
 TAKE YOUR DOGS THE EXTRA DISTANCE – Does your dog suffer from anxiety, depression, or have a physical disability? Or maybe just older or doesn't have the stamina for your next big adventure. Problem solved with our Doggy Rucksack…no more FOMO for your doggo. 
 LET YOUR PUP EXPLORE IN STYLE – A stylish solution to carrying your little pooch around without needing to worry about their safety.
 KEEP IT ALL IN ONE PLACE – 3 additional pockets that are perfect to keep your dog's water, poop bags, treats, toys, etc. Never forget anything on an adventure again!
FEATURES:
Our items is designed with a thick rest bottom pad and an adjustable cavity size so your pup can fit perfectly. The Doggy Rucksack includes 3 pockets (1 front pocket and 2 side pockets) so you can store all your dog essentials when going on your adventures. For extra safety, there is a safety hook to attach to your pup's collar preventing them from jumping out. And for your personal comfort, the Doggy Rucksack has been designed with 2 thick shoulder straps and a hip belt, that help to minimise any jerky movements.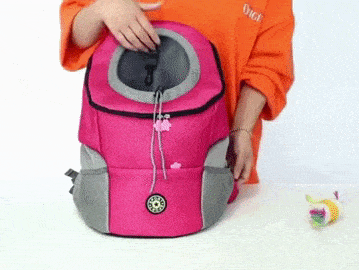 Benefits
 Perfect for dogs with a fear of going on walks, to slowly introduce walks back into their lives.
 More time to spend with you pup means more time for bonding!
 You don't have to worry about turning back when your pup gets tired when you have a Doggy Rucksack!
 Your dog can explore parts of the World like never before!
Small: 34cm (H) x 30cm (W) (<9lbs / <4kg)
Medium: 45cm (H) x 36cm (W) (<18lbs / <8kg)
Large: 55cm (H) x 41cm (W) (<27lbs / <12kg)
Material: Nylon
Colours: Pink, Orange, Blue, Green & Black
This Is A Great Gift For yourself or your friend!
Click "ADD TO CART" To Get Yours Now!