IMMOBILIZES WIGGLY PETS WITHOUT DISCOMFORT WITH THIS PET GROOMING HAMMOCK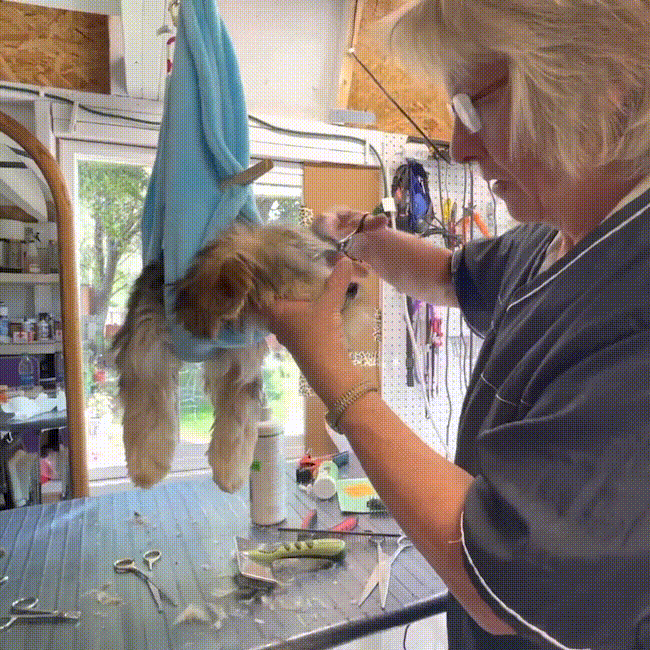 【Easy to Grooming Care】 Great for pets. such as bathing, manicure, taking medicine, cleaning teeth and ears, eye drops, examinations, injections, etc. The hammock bag will be hanging the pet in the air, exposing the four feet and head, which is easy to care for pets.
【Safe and Convenient】 The grooming hanging hammock bag flannel contact area is large, and the force area is large when the pet is hung, and it does not hurt. The limbs are suspended in the air, and the pets are quiet and not moving, making it easier and more convenient for grooming, which is essential for you who love cats and dogs.
【High-quality Materials 】 Made of double layer Flannel fabric, High-quality breathable and soft material and can be used for a long time, also can be used as a bath towel and does not hurt dog or pet skin, makes your pet comfortable.
【How to Use】 Put the pet grooming hammock restraint bag on your pet, folding the bag in half and apply the S-shaped hooks provided in the package through two small holes to hang it. The four big holes in the middle are for your pet's legs to pass through.
【Size&Weight】S size 25cm long, M size 30cm long, L size 35cm long. S size grooming hammock is suitable for pets under 40 pounds.M size is suitable for pets under 50 pounds. L size is suitable for pets under 60 pounds. It can bear heavyweight. Before you order, you can choose according to the actual weight of your pet.

SPECIFICATIONS:
Material: Flannel fabric
Colour: Blue, Pink, Gray
Applicable for: Dogs and Cats
PACKAGE INCLUDES:
1 x Pet Cat Grooming Hammock Helper