Portable AC - Top-Rated Genuine Portable Air Cooler
Cool down during the hot summer days by powering up our exclusive portable air conditioner. This portable ac unit is compact but delivers up to three levels of cooling to keep you happy and fresh throughout the day!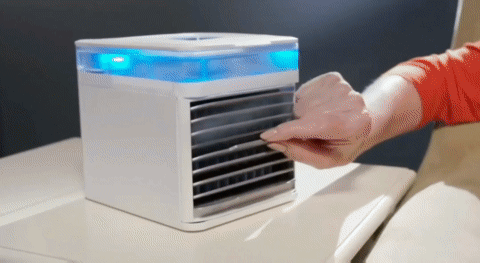 Simply fill the portable ac up with clean water and wait for a few seconds to experience its cooling power. This small portable air conditioner is so convenient that you can take it anywhere without a hitch.
In addition to its sleek build, the mini air conditioner provides you with multiple uses. You can use it as a personal air conditioner, humidifier, air purifier, and an aroma diffuser.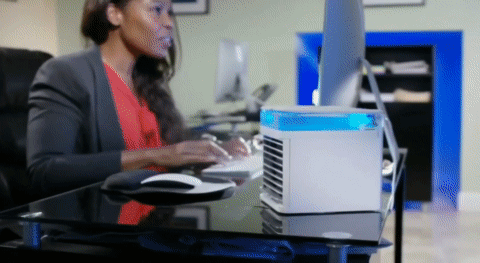 Best out of all, the portable air conditioning unit can be powered up via a simple USB connection. This means that you can enjoy the cooling goodness of this mini ac even while you're on the go!
MINI PORTABLE AIR CONDITIONER FEATURES
Stay cool and refreshed all year round with the help of our mighty portable air cooler.
Fast cooling air conditioner 
4-in-1 cooler: air conditioner, humidifier, air purifier, aroma diffuser
Features a 9-blade fan and a brushless motor
Silent function for a comfy sleep
7-color LED light options
Can be powered by a power bank, laptop, or socket
150ml leak proof water tank
MOBILE AIR CONDITIONER SPECIFICATIONS
Color: White & Gray
Maximum tank capacity:500ml
Rated power: 6W
Rated voltage: DC5V
Fan Working Current:1st speed/240mA; 2nd speed/460mA: 3rd speed/730mA
Negative Ion Working Voltage/Current: DC 5V/20mA
Negative Ion Working Power:1W
Ion Concentra on:1x108 PCS/cmi
Size:6 x 6.26 x 6.34 inches
SMALL PORTABLE AC PACKAGE CONTENT
1x Portable Air Conditioner
2x USB Cable
1x User Manual