THREE FUNCTION UPGRADES MAKE GRINDING NAIL MORE EFFECTIVE: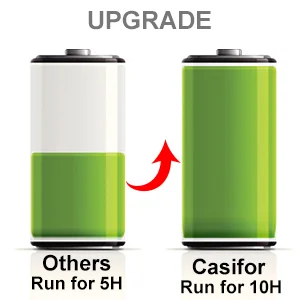 1. Battery Upgrade - Battery Life Up to 10 Hours
Casifor dog nail clippers upgraded battery and increased the battery life from 3 hours to 10 hours, once being fully charged, the grinder will be well-performed over 10 hours in continuous work. Solved the trouble of having to charge in advance for each use.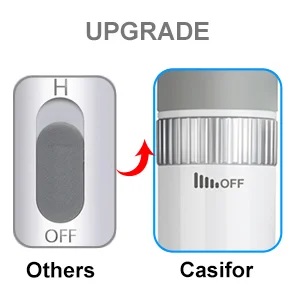 2. More Convenient Stepless Speed Regulation Switch
2020 UPGRADE electric dog nail grinder motor provide Stepless Speed Regulation Switch (4,500-11,000 r/min) which is quicker and more choices than any other products. You can choose any speed that suits your dog's nail hardness. The top of this pet nail grinder has a diamond-bit grinder,open when it in High-speed use it to smooth nails not splits,reducing the risk of clipping the claws too short or hurting your lovely friends.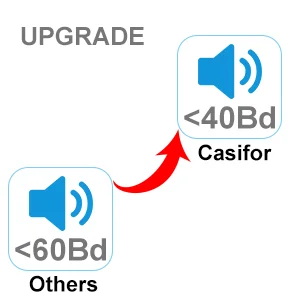 3. Quieter and More Gentle Low Noise and Low Vibration Technology
Different from other brands, Casifor pet nail grinder use unique mute technology, acoustic noise in the process of operation within the 40 decibels. This pet nail grinder designed with low noise and low vibration, providing quiet operation for pet comfort. Let your pet enjoy the grooming experience.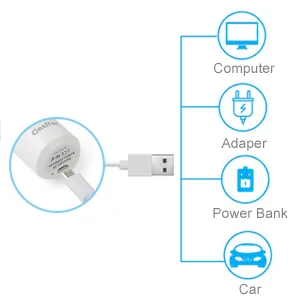 USB Charging:
Casifor Dog Nail Grinders is designed to be charged by USB, can conveniently connect to laptop, AC adapter, or power bank to supply power for the pet nail grinder whenever and wherever, no need to change battery, you don't have to waste your money to buy batteries anymore. Once being fully charged, the grinder will be well-performed over 10 hours in continuous work.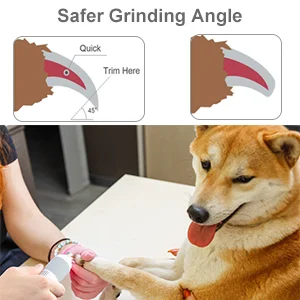 Nail Trimmed at appropriate Angle Is Necessary:
It's the perfect time to do claw grooming work after bathing, because their nails would be softer than usual and easier to trim. 45 degrees is a perfect angle for you to smooth pet's nails. (Warm Tip:do not grinder one nail for too long in case heat build-up within the nail and paw. )
HOW TO USE CASIFOR PET NAIL GRINDER: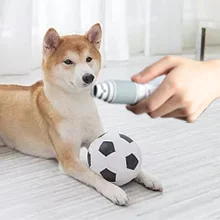 STEP 1: Let Your Pet Get Used To The Grinder
Let the pet sniff and check the pet nail grinder when it's on and off.
Let them listen to the grinder's working sound, getting accustomed to it, which may ease them during use.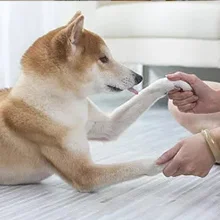 STEP 2: Make Your Pet Quiet And Wait To Trim The Nails
To trim your pet's nails, place his paw in your hand and hold each toe with your index finger and your thumb. Do not squeeze the toe, but hold it firmly. If the dog tries to pull his paw away from you, or struggles to get free, give him the "No, stay!" command, and praise him immediately when he follows your command. Hold the nail grinder with the other hand. This position will give you more precision and prevent you from cutting the nails too short.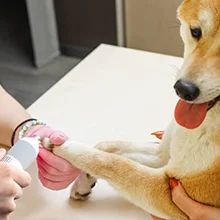 STEP 3: Choose The Appropriate Port And Speed
According to the pet's size and characteristics of their nails, choose the suitable port for your pet. Holding nail grinder with one of your hands, switch on the nail grinder in a suitable speed. Holding the pet pads with the other hand, try to let the grinder touch the nails gently and put the grinder around 45° oblique, and then begin to grind the pet nail.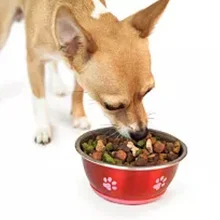 STEP 4: Reward Your Pet And Clean The Grinder
Have some treats handy so that you could reward them after the grinding, which may let your pet connect the grinding to the treats, making trimming a little good thing. Take off The grinder cover after trimming, cleaning The grinder wheel surface with a soft cloth to remove the nail powder.