The Easiest & Most Affordable Way To Relieve Headaches & Eye Fatigue.
Providing the optimum solution for the tender care and well-being of your eyes, Smart Eye Massager is a new generation eye massager that utilizes scientifically-proven warmth, acupoint and vibration massage plus music to help relieve headaches, insomnia, eyebags and everyday eye fatigue. It's essentially a miracle cure that can provide instant relief and tackle all eye-related problems.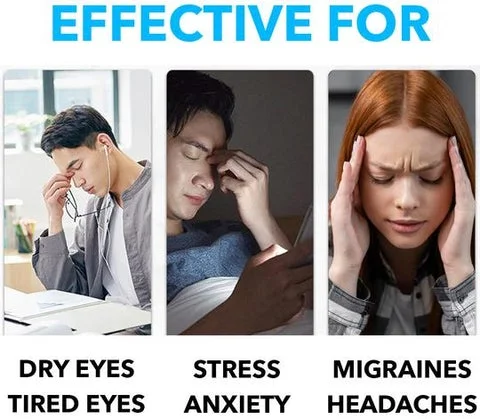 THE BENEFITS
The Massager Is Effective Against:
Migraines, Sinus Pressure & Headaches

Dry & Tired Eyes

Sleeping Problems

Stress & Anxiety

Eye Bags & Dark Under-Eye Circles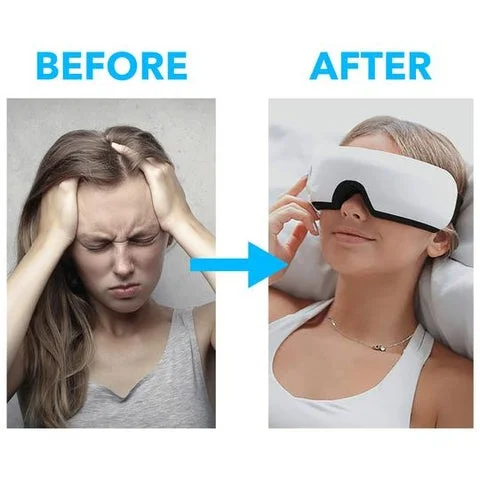 RESULTS
Relieves Migraines & Headaches

Healthy & Relaxed Eyes

Improved Sleep Quality

Less Stress & Anxiety

No Eye Bags Or Dark Circles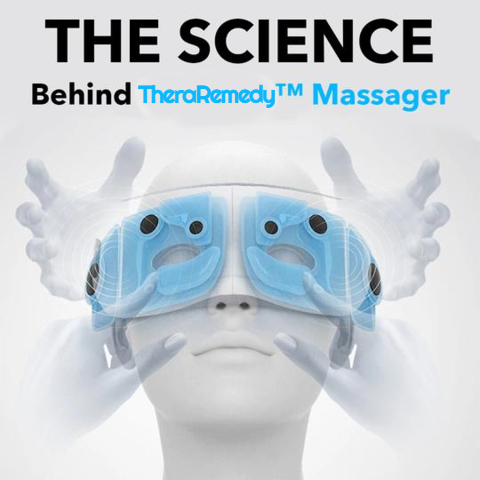 HOW DOES IT WORK?
The
Smart Eye Massager uses safe air compression technology and adopts kneading, trigger point therapy and rhythmic percussion massaging to give you the gentle touch you need to
battle against headaches, eye strain, sleeping problems, stress
and more.
The built in heating pads provide a soothing adjustable temperature between 100-107 degrees Fahrenheit which helps to stimulate blood circulation around your eyes,
reducing eye puffiness, dark circles, improving your sleep quality and making your eyes feel healthy
and
refreshed!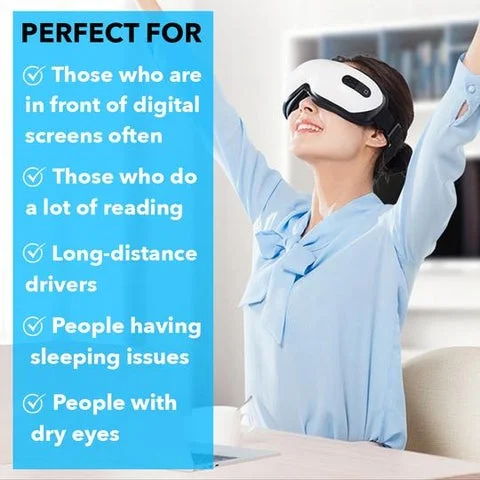 WHO IS IT FOR?
If you suffer from
headaches
, dry and tired eyes,
bad quality sleep or stress
then the
Smart Eye Massager is
perfect for you.
It's been designed to
keep your eyes healthy
and
relieve all eye related problems
including migraines, sinus pressure, eye fatigue, eye bags and more.
Perfect to be used in the comforts of your own home, or if you just need a quick break to relax which helps you recover immediately as soon as you feel a migraine or headache and stop it from getting worse.
It's the perfect solution for anyone wanting a life with healthy eyes, great sleep & no headaches.
FAQ
1. How long does it take to feel relief?
The Smart Eye Massager provides both immediate relief( in as little as 15 minuted a day) as well as long term health benefits with repeated use.
2. How well does this work on migraines?
Incredibly well. The heating function of the massager is a true life saver against migraines and headaches which over 10,000+ customers around the world have been telling us.
3. Can I use the massager while wearing contact lenses of eye lash extensions?
Yes! Our massager is completely safe and easily usable even if you wear contacts or eye lash extensions. If you do find that it causes you some discomfort, we recommend removing your contact lenses until you've finished with the eye massager.
4. Who can or cant use this device?
This device can work for anyone above the age of 3.
5. How often can I use this device per week?
We recommend using the eye massager daily for a minimum of 15 minutes for lasting relief.
6. Is the Eye Massager safe?
The device is 100% completely safe to use! Our device has received all the medical certifications to be considered as a completely safe device for you and your eyes.
7. How do I clean the Eye Massager?
The cloth that touches your skin can be cleaned and sanitized with wet wipes.
8. How does the Bluetooth feature work?
The Bluetooth feature is for anyone who wants to listen to music while receiving a nice and relaxing eye massage. Just connect your smart device with your massager via Bluetooth and you're ready to go!
TRY IT OUT 100% RISK-FREE
We offer a iron-clad 30-Day money back guarantee that only starts when you receive our Eye Massager. This means that you have 30 days to test it out and if you are not satisfied with your purchase, you have the ability to get your refund.