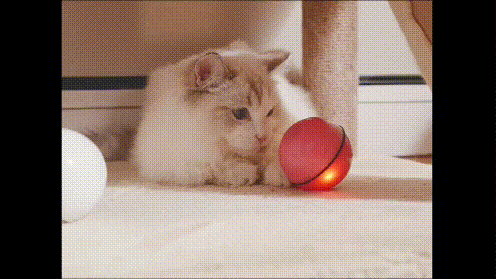 Instructions:
1.Switch click: monochrome red light display
2.Press the switch for the second time: colorful led light display
3.Press the switch for the third time: shutdown
4.Automatic shutdown and warning: automatic shutdown after 45 minutes
Features:
1. Colorful cat toy: Two color mode design, single red light mode and colorful light change mode, attract your kitten at any time. This cat toy has bells and feathers to stimulate your cat's hunting instinct.
2. Built-in kitten's favorite catnip: This upgraded cat toy is built with natural catnip, which makes your tired kitten become excited and improve the cat's appetite.
3. 360° rotation ball: After power on, the interactive cat toy will start 360° rotation and color LED indicator. When colliding with a wall, chair, door, etc., the ball will automatically change direction. No additional help is required.
4. Automatic shutdown: After rolling for 45 minutes, the cat ball will automatically shut down without consuming too much kitten energy.
5. USB rechargeable design: About 1.5 hours of charging time can provide 4 hours of entertainment time. When you leave the cat at home alone, it is the best cat toy.
Specification:
Name: Colorful LED Smart Electric Cat Toy
Color: white, pink, gray, blue
Material: ABS
Size: about 65*65*65mm/2.56*2.56*2.56in
Weight: about 110g
Charging: USB
Battery life: charging 2h, battery life 3-4h
Packing List:
Cat Toy Ball*1
Bell*1
Feather*1
USB*1
This Is A Great Gift For yourself or your friend!
Click "ADD TO CART" To Get Yours Now!