This cat snake toy looks realistic and the segmented body ensures excellent sliding action for more fun for pets and children.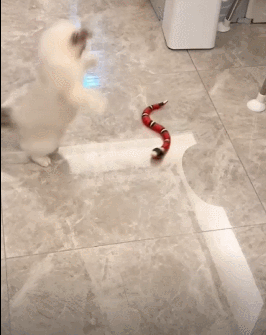 💕 Sensor mode – Place your hand in front of the toy snake and the snake will start sliding forward. The eyes of this snake toy will flash and automatically avoid getting stuck when it encounters an obstacle. This snake toy has a flickable tongue and a wagging tail.
💕 Easy to operate – Turn on the S-switch to make this toy start sliding and play continuously for about 1 minute before going into deactivation. Click on the head of the snake toy to activate it and make it move.
💕Realistic and more fun-This snake toy features 3D textures and vibrant colours for a realistic look.
💕 Our sensor snake toy has a built-in infrared sensor that automatically senses obstacles and escapes. The flexible movements are great fun and we are sure your children and cats will love this cute interactive toy.
💕The Cat Toy Interactive is ideal for children and cat birthdays, Halloween and Christmas gifts, the prank toy will give children lots of surprises and fun, even screaming. It looks like a real snake and as a prankster it will add even more fun to party pranks.
💕Best toy for cats-The main purpose of this electronic toy for pets is to stimulate hunting instincts and have fun. Please use this automatic electronic snake on smooth floors such as hardwood floors, tile floors or thin carpets. It may not glide well on thick carpet.
💕Just right-approximately 39cm/15.35 inches long. Takes approximately 40 minutes to achieve a full charge and over 15 minutes of play time.