All-new Solar Fountain enhances the productivity and beauty of your birdbath and fountain!

Running on solely on solar power, this fountain kit makes an affordable and efficient pump that requires no electricity or batteries.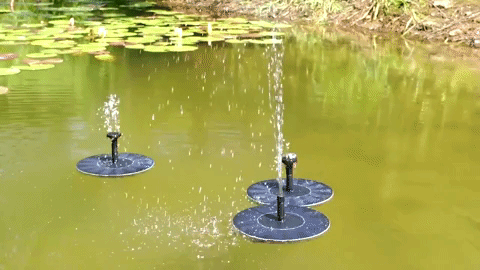 The simple design means no messy wires will be present and features suction cups at the bottom of the kit to stay in the desired place or float freely on water!
Change up the nozzle heads for different water effects and place the kit in direct sunlight for best results.
Some heads offer more of a light shower, whereas others are a hard jet of water that makes the water fly up further than the rest.
Join thousands around the world today and transform your traditional birdbath into a solar-powered fountain in seconds!
FEATURES
   Solar-powered, no battery or electricity needed!

  Easy to install and to use

   Different water styles and gentle burbling sound

   Suitable for birdbaths, fish tank, small pond, garden decoration, water circulation for oxygen
   Easy cleaning; easy reallocation, no plugs required, small and compact
   Maximum water height: Approx. 17.7 inches
Size: 13 mm
This Is A Great Gift For yourself or your friend!

Click "ADD TO CART" To Get Yours Now!