🎍Set up this stacked planter in your home balcony garden and plant your favorite plants such as strawberries or flowers!🍓🌼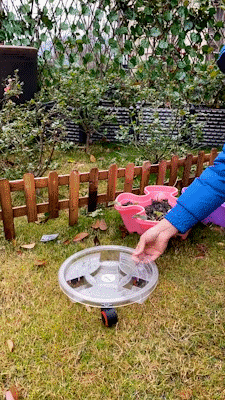 Stackable gardening tower: Made of food-safe polypropylene, you can use it as an independent plant pot, or you can stack it to build a white flower tower.
Removable bottom tray: With a flexible plant tray with 4 wheels, it is strong and durable, allowing you to easily move potted plants to any place you want, never worry about winter or summer. The raised edge structure can store excess water and soil, keeping the floor clean all day long.
Incredible display: Our unique and attractive stacking design is perfect for small gardens. It is pleasant to see from all angles. Suitable for small spaces, such as dormitory rooms, studio apartments, balconies or any limited places.
Intelligent watering system: The watering cup will make the water cup have the following layers. Use a kettle for watering. The water flows vertically and slowly, so there is no need to worry about water or rhizomes on the surface.
Best gardening product: This is a cool decoration, such as doors, porches, balconies, lawns, courtyards, etc. Attract attention and save space.
SPECIFICATIONS:
Material: Polypropylene
Color: white, pink, green, beige, brick red, purple
Weight: about 100g
PACKAGE INCLUDES:
1 piece x Flower Pot or 1 piece x Removable Bottom Faucet
This Is A Great Gift For yourself or your friend!
Click "ADD TO CART" To Get Yours Now!