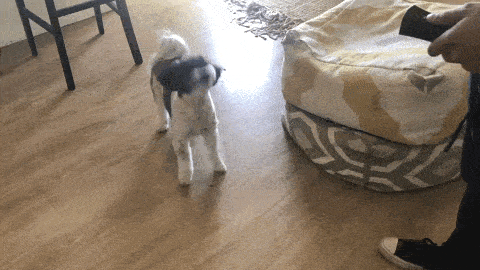 Efficent bark control:
This bark control device is using high-pitched ultrasonic technology and provides a safe and effective solution for dog training and bark control. Our ultrasonic bark remote has 20ft effective control long range and is suitable for all-sized dogs.
100% Safe to you and dogs:
Our anti-bark aid emits ultra sonic sound at 25KHZ which is not harmful to pets and completely gentle and inaudible to human ears. Comparing to the dog shock collar, the ultrasonic bark stopper will grab dogs' attention without hurting him and will eventually learn to associate the barking with the ultrasound, forming a conditioned reflex
Multifunctions:
Can be used as a dog training tool, to stop barking and to correct efficiently bad and unwanted behavior like excessive barking, digging, eating unsafe food, fighting, leash pulling. Also can be used as a dog repeller to discourage aggressive dogs from approaching you or your doggie and as a bright LED flashlight, suitable to use while walking your dog outdoor even at night
Made training easier:
When you push the "ON" button of this ultrasonic bark controller, it will emit a high frequency ultrasonic sound which can only be heard by the dog. The antibarking device isn't effective on dogs who are hearing impaired. We recommend using this product on dogs above 6 months and under 8 years
Portable and ergonomic:
Lightweight and easy to carry around anywhere you need to use it: home, in the park, in the car or for neighbors dog. Our anti-bark controller comes with an adjustable wrist strap and it's ergonomic design making it fits nicely in your hand, also fits comfortably into your pocket
Training advice:
Dog behavior problems are often misunderstood by dog owners. Perhaps you are new to dog ownership or just wish to help your dog with a challenging issue.
For best results you should always use the ultrasonic traning device with a verbal command. Please make sure you say your command first to get your dog's attention.
When first starting to use the bark control device you should closely monitor your dog's reaction to the correction. You should be inside a protected area. The protected area should not be a cage, crate or kennel.
Each dog can have a different reaction to the correction it receives from the bark control device. Reactions can vary from a dip of the head, to shaking the head, whining, excessive barking.
In the event of an extreme reaction or aggression, wait until your dog is calm before approaching it.
It is important for the training process to be interactive. Once your dog has received a correction and stopped the unwanted barking you should reward him with a treat or praise.
If dog shows no respond, it's because it doesn't understand the meaning of sound wave. The training should be repeated 5-6 times and last a few weeks, please be patient with the process.
The device isn't effective on dogs who are hearing impaired. We recommend using this prduct on dogs above 6 months and under 8 years.
Dogsfuns Dog Training and Barking Control Specifications
Color: Black
Material: ABS
Size: 13.7 x 5.5 x 2.5 cm
Frequency:35 to 45HKZ
Power: Uses one 9V Alkaline battery(included)
Frequently Asked Questions:
Is This Safe For My Pet?
This is completely harmless to dogs, people and all animals. Light and ultrasound Boeing is 100% painless and will not hurt your dog in any way.
How Does It Work?
Barking is a natural instinct for your dog. It's also natural for you to want some peace and quiet now and then. Simply turn on the collar or ultrasonic deterrent when you want your dog to stop barking. Every time your dog barks, your dog will hear or feel a safe, effective correction that reminds him not to bark.
I Have 2 Or More Dogs, Do I Need To Buy More Than 1 Collar?
We suggest that you purchase one collar per dog. We could not assure you the correct operation of 1 collar for several dogs. (although we had some clients who bought 1 and managed to use it for 2 dogs)
What Is This's Maximum Range?
Our most effective distance is 50 feet, but the maximum range can reach 300 feet.
Will This Work For Whining Or Howling?
If the this is close to the dog, you may be able to pick up howling or even whining. Also keep in mind that a dog might be howling or whining for reasons such as discomfort, fear, or anxiety. These issues should be discussed with a veterinarian instead of "punished" with any bark control system.
Can I Use It With A Puppy?
We do not recommend using this on puppies under 1-year of age. Please consult your veterinarian.