We all enjoy spending time outside on the patio, with family, having a BBQ, or going camping on weekends. As summer approaches, the only thing ruining the outdoors is pesky bugs; constantly swatting them off our food and bodies becomes tiresome. It used to happen every year, but not anymore!
Stop flies and bugs from bothering us and spoiling our food this summer. This USB Fly & Bug Trapping Device is non-toxic and completely safe to use! Bye-bye, chemical sprays! This traps flies, fruit flies, mosquitoes, and other pesky bugs!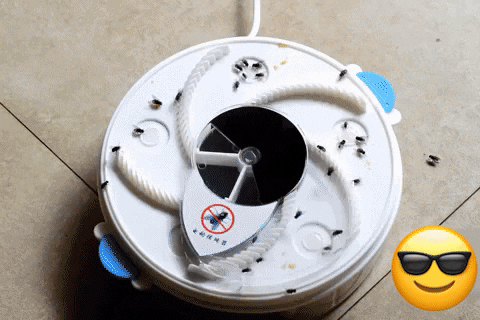 This USB Bug Trapping Device is a haven for flies, mosquitoes, and other insects. They will have no reason to land on you or your food if they are given their favorite snack (sugar and water). We spent months developing and testing this design in the most infested areas. We discovered that flies immediately seek out sugar and water over any food or human in the vicinity. The rotating top of the Fly Trap includes 5 arms that swoop around the bait trap constantly gathering any flies or bugs that are enjoying their snack. It then drags them into the trap, preventing them from escaping. This will quickly rid even the most heavily infested areas of bugs.
The trap container has a release on the bottom, so you can either set them free somewhere else or dispose of them once they die. It is ideal for use on the deck, patio, living room, bedroom, trailer, or tent.
Features:
USB cable, safe and convenient.

Can be reused, High-cost performance.

Physical fly traps, safe, non-toxic, and environmentally friendly.

High-efficiency capture.
Use method:

Spread the bait on the 5 grooves (Please do not use hard objects as bait).

Connect the power and turn on the switch.

The fly is attracted by the bait and transferred into the box by the rotating plate.

Remove the fly trap box and clean.
Specifications:
Voltage: 220/240V

Frequency: 50/620HZ

Product size: 27.9*2.8in
Package includes:

1 x Fly Trap Device
1 x USB Cable Without Plug
Alt