LET'S KEEP YOUR PETS SAFE AND WITHIN YOUR YARD'S BOUNDARY
Want to keep your pet safe without restricting their freedom? Then our Wireless dog fence is the ultimate solution for you! Now let your pets play in the yard without any worry with our Wireless Dog Fence! 
A conventional fence is expensive and you might not be looking for it. This Wireless Dog Fence is the ultimate solution to keep your pets safe and within your yard's boundaries! 
In the US alone approximately 1.2 million dogs are killed on the roads each year. The number of cats killed on the roads in the US every year is much higher at an approximation of 5.4 million! 
And the reason being, that while playing they get in front of a motorcycle or car, crossing their yard's boundary! With our Wireless Dog Fence, you can protect your pets because its static shock stimulation won't let your pet wander outside the safe zone.
What's New in our #2021 Upgraded Technology
Adjustable Operating Distance of 500m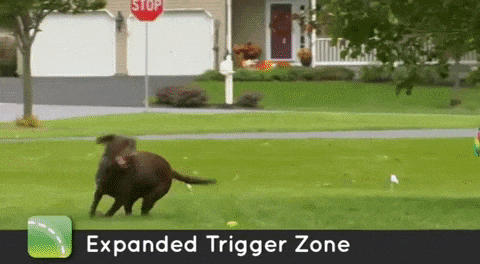 WHY YOU SHOULD CHOOSE Wireless Dog Fence!
Our Wireless Dog Fence works on the mechanism, when your pet reaches your yard's boundary then it gives a mild shock to the pet until it comes back to the safety zone. It uses a constant radio signal and creates a safety zone for the pet!
Benefits of using our Wireless Dog Fence :
Train Your Pet Easily: Our Dog fence can help you to train your pet and removes the unease of living in the conventional fence, besides that protect your pet without the electric wires.
Adjustable Range: With adjustable range, you can increase or decrease the safe area perimeter. Press the Plus (+) and Minus (-) buttons so the range can be adjusted, and the maximum range is 500 meters.
Waterproof Design: The water-resistant collar receiver is made of eco-friendly TPU material and is rated IPX7, which means that it can be used safely in rain and wet environments.
Quick Rechargeable: This product contains a high-capacity built-in battery and a universal power adapter that works long last.
KNOW WHY WE ARE BEST IN THE MARKET
A pet-perfect yard is now perfectly easy without expensive fences or buried wires. Keep pets playing safely and happily in your yard and off the street. Our Wireless Dog Fence is the best gadget to protect your dog!
Here are some features of our product:
Smart Technology: There is a battery status indicator in the receiver which will be green when the battery is charged and will turn red when the battery is low.
100% Safety: A safe wireless barrier around your yard make it safe for your pet and protect it from accidents.
Easy to carry: This product is completely portable which is very useful whenever you take your dog on a trip or camping.
Value for Money: This is a complete value-for-money product that saves the cost of a fence around your yard.
How to Use
Install and Test your system
Lace the collar on your dog and adjust it to a suitable stimulation level.
Train your dog in short sessions during the next two weeks.
Package Content
1 x Transmitter (Built-in rechargeable lithium battery)
1/2/3 x Collar Receiver (Built-in rechargeable lithium battery)
1 x User's Manual English)
Specifications
Weight: about 430-720g(base on different set)
Transmitter: 14.8*8.5*80 cm