Are you fed up with poor audio quality on your best video recordings?
Allow this Wireless Lavalier Microphone to solve your problem now! It not only improves audio recording quality but also provides a stronger signal and noise-canceling fidelity, reducing the possibility of Bluetooth or WiFi interference. Whether indoors or outdoors, a professional and small microphone makes it easier to record in any location. Simply plug the receiver into your phone, clip the wireless lavalier microphone to your collar, and start recording in under 10 seconds. The small and compact size of the microphone makes it easier to record in any location.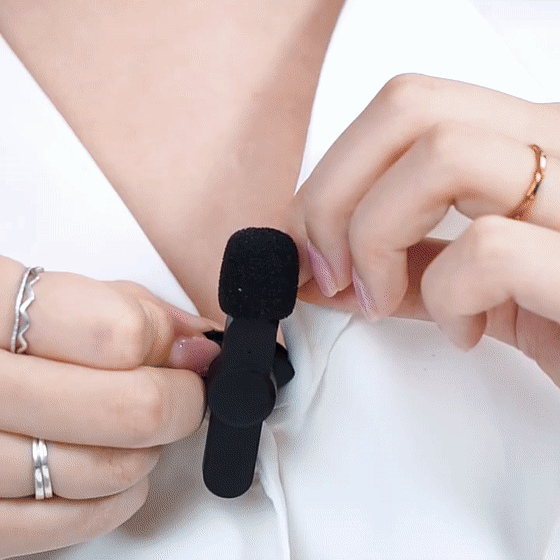 Why should you have this Wireless Lavalier Microphone™?
✅ Wireless Microphone: It has an effective connection distance of up to 20m and allows you to move around while recording video. Because of the noise reduction chips, you will hear a very clear and crisp sound. Ideal for YouTube recording, Facebook/TikTok Live Streaming, Presentations, and so on.
✅ Intelligent Noise Reduction: This wireless microphone employs an advanced intelligent noise reduction chip that can effectively identify and record the original sound in a noisy environment. You can now record clearly even in noisy environments.
✅ Plug & Play Design: Unlike other microphones, this one includes a transmitter and receiver that automatically connect, so no APP or Bluetooth is required. Simply plug the transmitter into the devices and start playing.
✅ Long Working Time: It has a built-in rechargeable battery that provides a steady connection for up to 6 hours, making it ideal for outdoor recording with a hands-free experience. It maintains a strong connection, capturing sound from its surroundings and transmitting it without delay.
✅ Compatibility: This microphone is widely compatible with all phones, laptops, cameras, and other electronic devices. All of the devices that have microphone connectors can be easily connected and used. So, you can use it with any device you own to improve your voice quality.
Specifications:
Frequency:

2.4GHz

Input voltage:

DC4.8-5.4V

Charging port:

for Lightning/for Type-C

Battery capacity:

80mAh

Transmission Distance:

8 m barrier, 20 m barrier-free

Microphone size:

62*23 * 28mm

Microphone weight:

7g

Receiver size:

45*27 * 7mm

Receiver weight:

4g